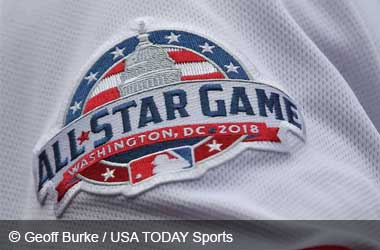 We are mid-way into the Major League Baseball (MLB) season and that mean's its time for baseball fans to get ready for the "Midsummer Classic" which features MLB All-Stars. The MLB-All Star game will take place on July 17 at the Nationals Park in Washington D.C. when the American League All-Star Team take on the National League All-Star Team.
The All-Stars roster for the "89th Midsummer Classic" was announced on Sunday evening. There are no surprises that 5 players from the Houston Astros who are the current World Series champions were selected.
Five players each were also selected from the Cleveland Indians who lead Central table, five players from the Red Sox who lead the Eastern table and four players from the New York Yankees.
89th Midsummer Classic Roster Revealed
The All-Star selection features a great mix of youth, upcoming stars and heavy hitters. We take a look at some of the top players who will be taking part in this star studded match.
American League All-Star Team
The shortlist was made up of 9 position players decided by a fan vote, player's ballots decided 17 players – 9 position, 5 pitchers, 3 relievers and MLB Commissioner's office decided another 5 – 1 position, 4 pitchers.
The American League starting team has a great line-up which include Mookie Betts, J.D. Martinez, Mike Trout, Jose Altuve, Jose Abreu, Wilson Ramos, Manny Machado and Jose Ramirez. Some of the pitchers will include Corey Kluber, Gerrit Cole, J.A. Happ, Jose Berrios, Edwin Diaz, Joe Jimenez, Blake Treinen, Justin Verlander and Luis Severino. The team will be managed by A.J. Hinch who is the manager for the Houston Astros.
The Americans all have a great back-up team featuring the likes of Salvador Perez, Alex Bregman, Mitch Haniger, Michael Brantley, Shin-Soo Choo, Franciso Lindor and Mitch Moreland.
MLB
National League All-Star Team
This selection process was made up of 8 position players decided by the fans, 16 player decided by the player's ballots – 5 pitchers, 3 relievers and 1 substitute for each position; and 7 players decided by the MLB Commissioner's office – 3 position and 4 pitchers.
The National League starting team will feature the likes of Freddie Freeman, Willson Contreras, Brandon Crawford, Nick Markakis, Nolan Arenado and Matt Kemp. Some of the pitchers will include Aaron Nola, Mike Foltynewicz, Jacob deGrom, Mike Mikolas, Josh Hader and Patrick Corbin. The team will be managed by Dave Roberts who is the manager for the Los Angles Dodgers.
There is also a great reserve line-up which have players like Scooter Gennett, Ozzie Albies, Buster Posey, Eugenio Suarez, Christian Yelich, Lorenzo Cain, Trevor Story and Joey Votto.