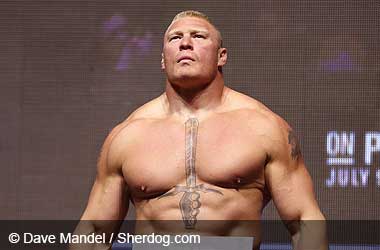 WWE superstars have a massive fan following all over the world. Brock Lesnar not only has a WWE fan base but also an MMA fan base as he is the only WWE wrestler to have fought in the Ultimate Fighting Championship (UFC) and become a UFC Heavyweight Champion.
UFC226 which took place on July 7th at the T-Mobile Arena in Las Vegas was a massive card which was headlined by a super fight when UFC Heavyweight champion Stipe Miocic defended his belt against UFC Lightweight Champion Daniel Cormier and ended up on the losing side.
Brock Lesnar surprised UFC fans by showing up before the Main Event and then made his way into the Octagon when newly crowned UFC Heavyweight champion Daniel Cormier called him out. Lesnar cut a brilliant promo WWE style by pushing Cormier across the Octagon and then thrash talking the heavyweight division.
The stage is set for a Brock Lesnar return to the UFC and it appears that he will fight for the UFC Heavyweight championship as Daniel Cormier has made it clear that he wants to face Brock Lesnar as it will be a massive pay-per-view card for the UFC and a big money pay day for both fighters.
UFC – Ultimate Fighting Championship
USADA Confirms Brock Back In Drug Testing Pool
The last time Lesnar fought in the UFC was at UFC200 against Mark Hunt. He won that fight but was pulled up by USADA for testing positive for performance enhancers. Brock Lesnar was suspended and he also took himself off the USADA drug testing list. As a result, Lesnar cannot just step into the Octagon and fight as he will have to have complete 6 months of testing and get a clean chit.
USADA released a statement confirming Lesnar has started testing again. The statement said
After receiving notice of his intent to compete in the UFC, Brock Lesnar re-entered the testing pool on July 3. With six months and four days remaining on his period of ineligibility, Lesnar will be able to compete on or after January 8, 2019, should he remain in compliance with the UFC Anti-Doping Policy.
Daniel Cormier has made it clear that while he is eager to step into the cage with Lesnar, he will only do so if Brock Lesnar gets drug tested and passes all of his tests. Cormier even went to the extent of saying that he wants Lesnar to be also tested by an independent agency and he is willing to pay the costs for those extra tests.