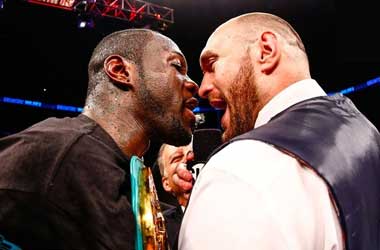 Boxing fans may not be happy with the final decision of the Deontay Wilder vs. Tyson Fury fight but they will not complain about the actual fight as they were treated to one of the best heavyweight boxing matches in recent history.
The American Wilder went in with an undefeated 40-0 record and Fury also went in unbeaten with a 27-0 record. At the end of the night, both boxers remained unbeaten as the final was ruled a draw by split decision.
One judge scored it in favour of Wilder, one in favour of Fury and one scored it even.
The two fighters had a very entertaining promotional tour as they thrashed talked each other and stirred up controversy in an attempt to promote the fight.
They not only succeeded in getting the fans interested but they delivered on the night as the fight went the distance.
Wilder floored Fury twice during the fight. The first time Fury was quick to get up but the second time, it looked like it was all over. Wilder floored Fury a minute into the 12th and final round but miraculously the British fighter recovered with a second to spare and the fight went on. Fury would later say that he felt a miraculous hand overshadow him and help him get up.
ESPN
The two fighters were very respectful to each other after the fight and promised fans that they will do a rematch to see who comes out on top. They both felt that they had won the fight but were not surprised with the split decision draw.
Boxing Fans Unhappy With The Result
While Fury and Wilder appeared to be okay with the draw, boxing fans around the world were upset with the decision and took to social media to voice their frustrations. There were many who felt that Wilder should have won given the fact that he floored Fury twice.
What an absolute farce!!!! How corrupt ??!!! #WilderFury

— Tommy Fleetwood (@TommyFleetwood1) 2 December 2018
I thought Fury put on a boxing lesson. Had Wilder only winning 3 rounds. The two 10-8 rds were big, but I believe Fury was the much better fighter tonight.

— Gabriel Rosado (@KingGabRosado) 2 December 2018
However, a lot of fans felt that Fury had done enough to outbox and outclass the American and given him resilience to not quit and go down, should have been given the win. Fans will have to be patient as the rematch will most likely take place in the middle of 2019.
Wilder and Fury have officially announced themselves to be the two best heavyweight fighters on the planet sending a strong message to Brit Anthony Joshua who has been after a fight with Wilder for sometime.