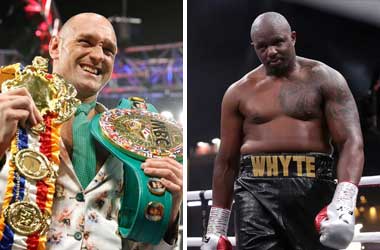 Summary
Dillian Whyte to fight Tyson Fury on April 23
The Gypsy King has announced this will be his retirement fight
Fury explains logic behind his decision to retire
Tyson 'The Gypsy King' Fury is arguably the best heavyweight boxer on the planet right now and is still in his prime at the age of 33.
Fury has a number of exciting fights lined-up for him but his next fight will be against Dillian Whyte.
Fury is scheduled to fight Dillian Whyte on April 23 in Wembley Stadium in what is expected to be his retirement fight. Fury has promised to KO Whyte in under a minute and then sail off into the sunset. His decision to retire after the Whyte fight comes as a surprise to many as the Gypsy King has wanted to fight Anthony Joshua for a number of years but that fight has never materialized and now looks unlikely to do so.
Fury has said that he will retire from professional boxing on April 23 but will still be interested in fighting exhibition bouts and has already called out UFC heavyweight champion Francis Ngannou for an exhibition bout.
Fury Explains Logic Behind Retirement
Fury said that he wants to retire with an undefeated record and go out on top. He explained the logic behind his decision and said that he has proved to the world that he is indeed the heavyweight champion of the world and there is nothing left to prove. The only reason he would have to continue fighting is for the money.
Fury said he after the fight with Whyte he will have more than £100 million in the bank and that's more than enough for him. The Gypsy King said he lives a very moderate lifestyle in Lancashire and does not have any costly habits that will cause him to burn his earnings. Fury says that he wants to walk away from boxing without any brain damage or injuries as he has six kids and wants to be there for them.
Fury plans on making a Netflix documentary do some films in Hollywood, a few exhibition fights and continue to be a good husband and father. If Fury wins against Whyte he will most likely retire, but if he does end up losing, he might just want one more fight to avenge his loss.