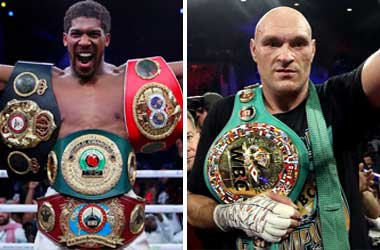 Boxing fans were promised the biggest heavyweight fight in over two decades as they were told that the fight between WBA, WBO and IBF heavyweight champ Anthony Joshua (AJ) and WBC champ Tyson Fury was all but done. Eddie Hearn who promotes AJ gave fans the impression that the only thing pending for this fight was finalizing a venue and a date.
Reports have now emerged that Tyson Fury has not signed the contract and has no plans on doing so until a bank guarantee is furnished. The two British fighters were expected to fight in Saudi Arabia on August 14 and were set to take home around £75 million each before pay per view money.
Frank Warren who promotes Tyson Fury told the media that 85 percent of the reason why the Gypsy King has refused to sign the contract was due to the absence of the bank guarantees. Warren did not disclose what the remaining 15 percent was but implied that these were minor things that could be sorted out quickly.
SecondsOut
Lawyers from both sides are currently working on the contract. Warren has made it clear that if things don't get sorted out quickly, Fury will move on from his fight with AJ and look to fight a new opponent in July in the United States. That opponent could very well be Deontay Wilder who was keen on getting his third fight with Fury done in 2021.
AJ Sends Message To Fury
Fury in the past has called AJ out for ducking the fight and deliberately stalling. However, things have changed and it is now AJ who is calling out Fury. Joshua took to social media to call out Fury respectively and say that he was tired and his fans were tired of all the delays. He ended his post by saying less talk and more action.
"Spartan."

I'm tired.
My fans are tired.
Your fans are tired.

We're all tired of the talk.

Less talk. More action!@Tyson_Fury.

— Anthony Joshua (@anthonyjoshua) May 10, 2021
Eddie Hearn appeared to be confident last week that he would finalize this fight but that does not appear to be the case any longer. If we don't get a contract signed in the next couple of weeks, it looks like this fight might fall through and boxing fans will once again be cheated out of a fight that they most want to see.
As of this writing, Tyson Fury is yet to respond to AJ's message.