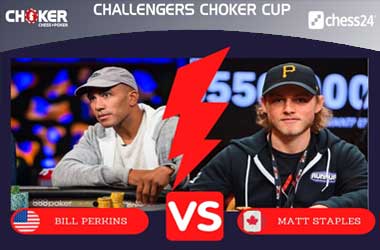 The Challengers Choker Cup continued this week as hedge fund manager and high-stakes poker player Bill Perkins and Canadian poker pro and streamer Matt Staples battled it out in the unique mixed mind sport event, combining elements of chess and poker.
The match took place on May 21 and was the tournament's first poker to poker clash. The highly-anticipated bout was covered via livestream by chess24.com. The live stream lasted for a little over two hours and in the end it was Bill Perkins who walked away with the win.
Chess and poker are well-known traditional games that require good mental skills strategy, emotional stability, patience, and a little bit of "luck".
The idea of merging both games into a super mind sport has been a hit for chess and poker lovers alike, leading to the launch of the first high-profile tournament of its kind, the Choker Cup. But unlike other tournaments, there's no real money involved in Choker Cup, as the event has been organized only for fun.
chess24
Launched earlier this year, the exciting event attracted a stellar line-up, including UK Grandmaster Simon Williams, American International Master Eric Rosen, Hungarian chess champion Anna Rudolf, Brazilian chess player Raffael Santos, FIDE Master Alezandra Botez, as well as Perkins and Staples, representing the poker community. A wildcard player will also join in on the action.
The last player standing will get the chance to face five-time US Chess Champion Hikaru Nakamura in the grand finale and earn bragging rights plus a trophy! The first match took place on May 7 between Williams and Rosen, with the latter emerging as the victor. Santos then outclassed Rudolf in the second match which unfolded on May 14.
The first two matches took place with live commentary from two prominent names from both worlds, Twitch poker streamer and Choker ambassador Jeff Gross, and English IM Malcolm Pein, director of the London Chess Classic, a world-renowned annual chess festival.
Wildcard Seat Up For Grabs
The mystery wildcard contender who will take on Botez in the fourth match this week could be you! If you want to indulge in the unique challenge, download the CHOKER app on Google Play or Apple App Store, and simply enter the prize draw for a chance to earn the wildcard spot.
Chess players have always loved poker, with Nakamura himself also playing in major poker tournaments, such as the World Series of Poker (WSOP). More recently, some high-profile poker pros have also shown interest in the two-player board game, including Poker Hall of Famer Daniel Negreanu, and British poker pro Charlie Carrel. The Choker Cup will run until June 25.