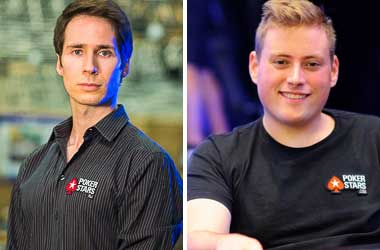 PokerStars has removed two more players from its roster of ambassadors, in what Marketing Director Eric Hollresier described in earlier interviews as a possible change of direction for the online poker giant.
Popular streamers Jaime Staples and Jeff Gross announced they're parting ways with PokerStars via videos released on Twitter.
Over the last few years, the online poker room has been re-assessing its line-up of ambassadors and decided to adopt a new marketing strategy centered around celebrities, social media, creating content and building communities. As a result, PokerStars brought aboard several professional streamers including Staples and Gross.
The news marks yet another twist to PokerStars' brand ambassador strategy. In 2018, we saw a number of prominent names leaving the brand. Could this signal the end of the "Twitch experiment" referred to by Hollreiser last year?
The marketing director said while Twitch streamers are great at pulling audiences and building a community, the live streaming platform now needs to be at a bigger scale to produce a more meaningful impact.
Graceful Exits
Gross is popular in the poker and Twitch community as is known as the "Professional Best Friend", owing to his charming personality and his ability to create connections. He is also an accomplished poker pro with over $3.2 million in live cashes. Gross hosts the 'Poker Flow Show' on Twitch, which over the years has managed to attract more than 55,000 followers. PokerStars signed him up in 2017.
I have really valued my time with @PokerStars & appreciate the opportunity & experience. I wanted to thank the entire PokerStars family. To see a more detailed explanation, thank you & for what's next; please watch the following: https://t.co/RTqXP559kS pic.twitter.com/nNFpNVDTFA

— Jeff Gross (@JeffGrossPoker) February 4, 2019
Describing his journey with the online poker giant, Gross said he had nothing but appreciation and gratitude for the company for allowing him sign his first major deal and giving him the opportunity to become part of its roster of ambassadors. He was especially thankful to his fellow ambassadors Daniel Negreanu and Andre Akkari.
Despite no longer donning the PokerStars logo, Gross assured everyone he will remain busy and visible with new exciting projects.
Staples is not that popular in the live poker scene but the man is a Twitch star with almost 120,000 followers. He earned more recognition when he won a high-stakes prop bet against businessman and poker player Bill Perkins. Because of his enormous reach on the streaming platform, PokerStars brought him in four years ago.
As of today my time with @PokerStars as an ambassador has come to a close. It has been the best years of my life! Thanks to everyone I worked alongside over the past four years. You made it really special. ❤️✌️😀 pic.twitter.com/huGZ1EuRln

— Jaime Staples (@jaimestaples) February 5, 2019
Staples thanked PokerStars for making his dream come true. Though the future looks a little bit scary for him, Staples said he will continue to work hard and promote poker as a great game.