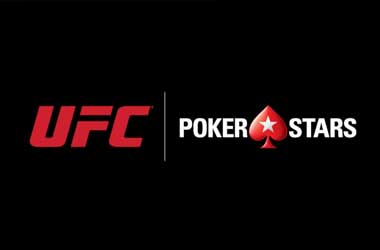 PokerStars has become the first ever "Official Poker Partner" of the Ultimate Fighting Championship (UFC).
The American Mixed Martial Arts (MMA) promotion joins a list of sporting entities that have recently signed a deal with a casino brand as more states look to legalize sports betting.
As part of the partnership, the UFC Octagon will be adorned with the PokerStars' red spade and white logo, along with the names of other sponsor firms.
PokerStars will have its first appearance in the world-famous Octagon when Jon Jones and Alexander Gustafsson come face to face for the second time during the UFC232 pay-per-view card which is scheduled to take place on December 29 at the Forum in Inglewood, California. PokerStars ads will also appear on UFC's digital and social media channels as well as sports telecasts.
The partnership will provide a major boost to the PokerStars brand which will extend to 1.1 billion households in over 160 countries and jurisdictions all over the world. The UFC is the world's biggest MMA promotion company with worldwide programming distribution and a massive global fan base. UFC shows are being broadcast in 40 different languages across the globe.
Partnership Brings Mutual Benefits
Both parties have expressed their excitement in working with each other, with UFC Senior Vice President for Global Partnerships Paul Asencio saying the deal will help both companies in growing their respective customer bases.
The two companies are also expected to gain benefits in terms of crossovers and content promotions, Jason Somerville, a member of Team PokerStars has experience working with the UFC in the past when he represented the Ultimate Poker brand.
When asked about what's in store for poker fans under the new partnership agreement, Somerville said details will be announced soon. For now PokerStars will concentrate on kick-starting their business partnership with the UFC 232 fight card which has a number of exciting MMA fights in store for fans including two title fights.
There's also a massive overlap of fans between MMA and poker, and that will make the partnership even stronger. The UFC-PokerStars partnership is just one of the multiple partnerships between casinos and major league sports in the US that have emerged in the wake of a Supreme Court ruling lifting a federal ban on sports betting.
MGM Resorts International is one casino brand that has managed to secure a number of partnerships with top sports leagues in the country. The first was a deal with the NBA in September and in the following month MGM signed with the NHL and went on to sign with the MLB in November.