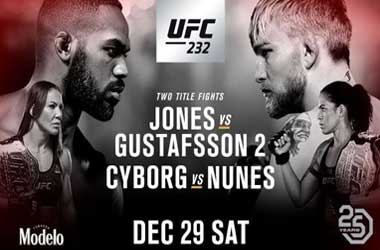 The Ultimate Fighting Championship (UFC) was set to finish 2018 with a massive pay-per-view card that would be headlined by the return of Jon Jones who would fight Swede Alexander Gustafsson for the UFC Light Heavyweight title.
UFC 232 was scheduled to take place at the T-Mobile Arena in Las Vegas, Nevada on December 29. However, the UFC has been forced to make some last minute changes in order to save the card and re-locate the event from Las Vegas to the Forum in Inglewood, California.
Jon Jones is among the top three biggest draws for the UFC when it comes to selling fights but there is always controversy and drama surrounding a Jones fight. He has had problems with the law, drugs and testing positive for steroids during the last few years of his career. Jones was coming back from a 15 month suspension going back to July 2017 due to steroids being found by USADA.
USADA informed the Nevada Athletic Commission (NAC) that they found an extremely low amount of a prohibited substance in a December 9 test from Jon Jones. As a result, the NAC did not issue Jones a license to fight and has scheduled a hearing for January 2019.
USADA did point out that Jones did not test positive again for a banned substance but the metabolite that was discovered in his recent test is the same substance that he tested positive for back in July 2017 and confirmed that it will have no impact on his performance in the Octagon.
MMAjunkie
The California State Athletic Commission (CSAC) who is familiar with the Jon Jones case since they were the ones who suspended him in 2017 were happy to allow Jon Jones to fight in California as he holds a current license to fight. The UFC wanted to save the card and made a decision to move the fight with just a week's notice.
UFC 232 Fighters And Fans In Turmoil
UFC President Dana White has confirmed that everyone who bought tickets for the Nevada card will receive a full refund and the UFC will do their best to give them the first preference when it comes to buying tickets for the fight in California. The UFC production crew and staff are also in a tough spot as they have to re-organize everything which is a massive task for an event of this magnitude.
Fighters on the UFC 232 card were caught off-guard about the change in venue as most of them found out on social media and now have to focus on a change in venue instead of their weight-cut and fight.