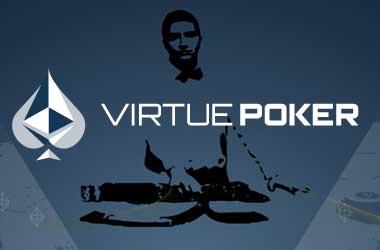 The newest blockchain-based poker room is opening its virtue poker token sale on April 25. Virtue Poker is joining the handful of poker sites that have started to adopt blockchain technology into their systems.
While the online poker room will be heavily relying on Ethereum, they are also launching a token of their own to make things a little more personalized and secure at the platform. Virtue Poker is expecting the price per token to be around $0.125 to $0.06, depending on windfall.
Virtue Poker is counting down on its website to the initial sale of its proprietary token called virtue poker points (VPPs).
VPPs are the primary tokens used in the online poker platform and can be used by players as an in-game currency when they play at the virtual poker tables. These tokens also grant special access to tournaments and freerolls, and gives extra security to the players since the tokens are "locked" in smart contracts by a Justice Registry that stakes tokens and validates hands.
Ryan Gittleson
A Justice Pool is Virtue Poker's peer-to-peer style of table monitoring. Justices are players who are reviewed by the system and will be paid to monitor and handle disputes on the table. This unique system is part of the level of security that Virtue Poker promises from malicious third parties that may use their admin rights to cheat in the game. In simpler terms, Virtue Poker guarantees that no other eyes are seeing your cards, no admin can take advantage of their omnipotent access into the servers, and payments are handled faster and safer because of the Ethereum smart contracts.
Get A Piece Of The Action On April 25
Interested yet? If you think Virtue Poker deserves a shot, then log in to the website on April 25 to get a piece of the 100 million VPPs to be sold. The sale will run for two weeks or can conclude earlier once the target $12.5 million Ethereum is achieved.
The raised Ethereum will be used to pay for platform maintenance and similar projects. Another 40 percent will go to platform development, another 40 percent will go to marketing, 10 percent will be allotted for legal expenses, 5 percent for business partnerships, and the last 5 percent will be awarded to consultants.
If you are unable to do the April 25 sale, there's no reason to worry since this is only the first leg of the sale, and constitutes only 20 percent of the total 500 million VPPs that will be created by Virtue Poker. On top of that, you don't have to worry about missing out on good prices because unlike other initial coin offerings (ICOs), the price of the VPPs will be determined on the final amount of Ethereum raised after the sale, so no special bonuses or discounts for those who get in to the sale early.