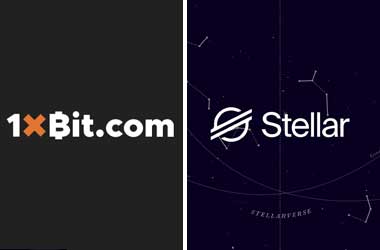 Stellar is one of the well-known blockchain in the crypto industry, recognized for its safety, trust worthiness and cost-effectiveness. The blockchain's native crypto, XLM, was created by the Stellar Development Foundation six years ago and its adoption has been rising in the past few years, primarily among medium and small businesses.
And currently, 1xBit has taken another major step in the adoption of cryptocurrency by integrating XLM on their gaming platform. Stellar offers multiple benefits to cryptocurrency industry, but the prominent feature is its transactional ability.
Stellar, which was created as an open-source and decentralized covenant for cryptocurrency to fiat dealings, enables easy trans-border dealings utilizing any currency pair.
This provides a big opportunity for firms to move out of conventional banking platforms and substitute them with cryptos. The miniscule fees, security and quick transactions have transformed it into a notable alternative, particularly for small business establishments.
In the last few months, cryptocurrency adoption has risen in a big manner. This can be understood in the daily transaction value of XLM, which continues to be over 1 billion along with a frequent price rally. Following the integration of XLM on 1xBit's platform, crypto enthusiasts will have a range of casino games to play and also bet on a variety of sports events.
It is not a surprise that 1xBit is a leader in the cryptocurrency gambling sector. The website offers more than 100 games, 5,000 slots, in addition to numerous sports, betting and e-sports opportunities. However, the website does not restrict itself with conventional betting on ice hockey, basketball and other sports. Using 1xBit platform, customers can place bet on boat races, chess, air hockey and also darts. Furthermore, the firm offers other e-sports betting possibilities such as include CS:GO, Dota 2, Rocket League, League of Legends, and StarCraft.
Finally, gamers can even place bet on political developments, TV shows and weather. Notably, Stellar is only one in a big list of cryptos accepted by 1xBit. Overall, the website supports more than 25 kinds of assets, including Etherum (ETH), Bitcoin (BTC), Monero (XMR), Dash (DASH) and Litecoin (LTC). A user can switch between cryptos any point in time.
In addition to accessibility, 1xBit is also concentrating on safety and data privacy. By simply entering the email address after clicking the 'register' button, a wannabe gamer can sign up in a matter of few minutes. Interestingly, the website automatically creates a username and password that can be utilized to login and play the favorite games.
With respect to games, 1xBit also supports a number of casino games, including Blackjack, Roulette, Poker and Baccarat, with real-time dealers. The platform also offer impressive bonus of up to seven Bitcoins to new users.