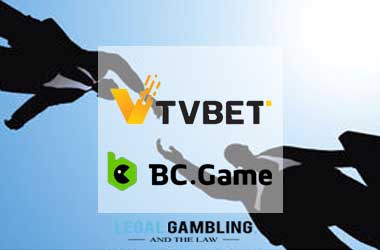 TVBET, one of the renowned live game providers, has expanded its worldwide market footprint by collaborating with BC.Game, a Bitcoin casino. Both firms share a similar vision: to offer players with the finest casino and betting options possible, and that's why this partnership will open up new opportunities in the iGaming sector.
The entire portfolio of the B2B supplier has been integrated to the casino's digital library. TVBET is a worldwide live TV-games supplier that provides numerous interesting online betting products in the form of software integration to sportsbooks and casinos.
TVBET has had a really fruitful 2021, as the firm progresses to close numerous agreements with influential industry professionals.
This is the scenario with the most recent collaboration with BC.Game. The company offers effective alternative betting options to igaming industry participants, including operators and suppliers, in order to ensure their long-term development.
TVBET
BC.Game was established in 2019, and it is a sophisticated cryptocurrency casino with a diverse digital collection. One of the most notable aspects of this operator is its emphasis on contact with enrolled players and leader motivation. The online casino offers an online chat where gamers are offered lucrative bonus, seek help from the Support staff, exchange emojis, win, and talk. Slots, dice, poker, blackjack, roulette and craps, among others are presently offered at BC.Game. Additional 13 games have been introduced as a result of the TVBET agreement.
TVBET's worldwide network comprises more than 200 casino and sportsbook providers. Its games are delivered straight away to such platforms through content integration. TVBET has the ability to deliver immaculate services because to its approved gaming consoles, skilled personnel, and sophisticated broadcast infrastructure. Teen Patti is the title of TVBET's most current game, which was released lately. This is the firm's 13th offering, and it is now accessible at BC.Game. Teen Patti, which has its origins in India, entices gamers with its easy rules and one-of-a-kind appearance.
Because TVBET has extensive expertise in the TV live games sector, the count of market players who opt for it is growing. As a result, it has extensive promotional capabilities as well as faultless broadcasting. Both TVBET and BC.Game are committed to expanding their impact in the iGaming industry. As a result, the collaboration was an easy decision for both parties.