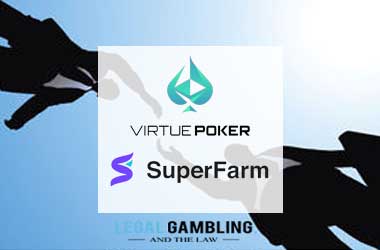 Virtue Poker, an Ethereum-based decentralized poker platform has teamed up with well-known NFT platform SuperFarm to launch its Initial DEX Offering (IDO), which will enable it to sell a small percentage of its VPP tokens on SuperFarm's new Launchpad, "SuperStarter".
Under the new partnership, the SuperFarm community can become exclusive VPP token holders and will enjoy plenty of benefits, including getting significant savings on service fees, earning staking rewards (up to 50% of the platform's fees), having access to multiple marketing initiatives, as well as getting involved in the platform's development process.
After putting its VPP tokens up for sale, Virtue Poker will then proceed with integrating NFTs into its platform, a move described by the company's founder and CEO Ryan Gittleson as "revolutionary" for the online poker industry.
According to SuperFarm founder Elliot Wainmann, their partnership with Virtue Poker will help expose NFTs to new types of ecosystems, thereby expanding its use cases, and they're delighted to be able to help new projects adopt NFTs through their SuperStarter platform.
What Is Virtue Poker?
Virtue Poker was developed in 2016 by ConsenSys, a leading blockchain software technology firm founded by Joseph Lubin (also the co-founder of decentralized blockchain Ethereum).
Since its inception, Virtue Poker has gained backing from well-known investors and venture capital firms, such as Flurry Capital, Pantera Capital, JRR, Fenbushi Capital, and DFG Group. Poker legend Phil Ivey also owns a stake in the blockchain-based online poker site and is part of the team, alongside Dan Colman and Brian Rast.
Virtue Poker aims to create a decentralized platform that will enable players to make fund transactions independently and allow them to have full control of whatever funds they have on the site. It prides itself on being the first such site to obtain license from the Malta Gaming Authority.
With blockchain technology attracting significant attention nowadays, and with the online poker industry now beginning to embrace cryptocurrencies, Virtue Poker is looking forward to more positive developments in the future as it continues to build a safe, honest, and fun online poker platform for everyone.
SuperFarm
SuperFarm uses a cross-chain DeFi protocol to turn any token into an NFT without requiring codes. Its latest partnership with Virtue Poker will pave the way for NFT adoption in the online gaming industry. Its new platform "SuperStarter" enables companies to conduct IDOs and private presales, while guaranteeing compliance and security.