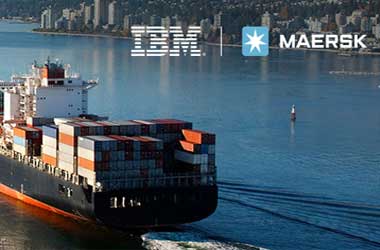 IBM has partnered with shipping giant Maersk to launch a block chain technology based solution for the shipping industry. The unnamed joint company aims to simplify the management of transporting goods across diverse trade zones. The platform, developed in-house by IBM, hopes to provide a real-time information on ship movements and the merchandise they carry. Smart contracts are expected to replace the current complex and labor-intensive paperwork process. The initiative was first trialed in 2016.
Supply chain management is crucial for industries to function in a smooth manner. Thus, enterprises are always willing to take any extra step to ensure an improvement in operations.
Research director for block chain strategies at market research firm IDC, Bill Fearnley believes that the partnership will have a competitive advantage over other smaller block chain startups due to the established nature of the companies behind this project.
Michael White, CEO and former president of Maersk Line in North America, expects the joint venture to receive regulatory approval in early spring and begin selling software subscriptions by the third-quarter of 2018. The new company is currently forming an advisory board comprised of industry and government officials.
In a press release, Maersk said
More than $4 trillion in goods are shipped each year, and more than 80 percent of the goods consumers use daily are carried by the ocean shipping industry. The maximum cost of the required trade documentation to process and administer many of these goods is estimated to reach one-fifth of the actual physical transportation costs. According to The World Economic Forum, by reducing barriers within the international supply chain, global trade could increase by nearly 15 percent, boosting economies and creating jobs.
Commenting on the partnership, White said
"The pilots confirmed our expectations that, across the industry, there is considerable demand for efficiency gains and opportunities coming from streamlining and standardizing information flows. Now this work has progressed to a point that a beta version involving all players of the ecosystem along a specific trade lane can be launched. That is why we intend to create the joint venture – to take these solutions to market."