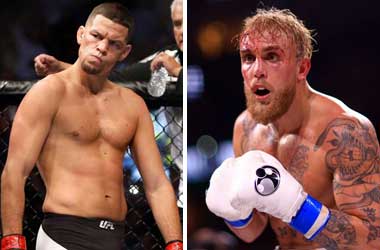 Nate Diaz is one of the biggest stars in Mixed Martial Arts (MMA) and always gets a lot of attention when he fights in the UFC.
Nate decided not to renew his contract with the UFC as he wanted to pursue a boxing match before coming back to the UFC.
Nate gets his chance to step into a boxing ring on Aug 05, when he takes on You Tuber turned boxer Jake Paul! The two fighters will headline a card that is being promoted as 'Ready 4 War' in a 10 round fight at 185 lbs.
When Jake Paul sets up a boxing match, he and his opponent tend to get involved in a lot of trash talking and social media mudslinging that helps to promote the fight.
He hasn't been able to get Nate Diaz to resort to thrash talking and hence this fight is slipping under the radar!
Jake said Nate talked a lot of thrash prior to signing the fight but once it was signed, he went quiet and left all the promoting to him!
Best Betting Sites To Bet On The "Ready 4 War" Fight
If you are looking at betting on the Paul vs. Diaz boxing match, then we recommend you register at any one of our featured sportsbooks. Sign-up and get an attractive welcome bonus and access to a great list of combat sports including MMA.
The Journey To Fight Night
Jake suffered his first loss in a boxing ring when in Feb 2023 when he lost a split decision to Tommy Fury – brother to heavyweight champ Tyson Fury. Jake decided not to pursue an immediate rematch and preferred to once again sign-up for a boxing match against an MMA fighter.
Jake has already fought and had success with other ex-UFC fighters including Ben Askren and Tyron Woodley. When he did fight a professional boxer in Tommy Fury, he put up a good fight but ended up losing. His preference to fight UFC fighters who have either retired or are nearing the end of their career gives him a big advantage which will once again be evident when he fights Nate Diaz.
Nate Diaz's last fight was at UFC 279 when he fought veteran Tony Ferguson in Sep 2022 and ended up winning by submission in R4. Diaz will be fighting outside the UFC for the first time in 17 years and will be at a disadvantage as he is moving up a weight class and is also the older fighter at 38 when compared to Jake who is just 26!
The co-founder of Paul's "Most Valuable Promotions", Nakisa Bidarian says he thinks Jake could end up retiring from boxing, if he ends up losing to Nate Diaz. If Diaz ends up losing, he is likely to re-sign with the UFC as he has stated in the past that he wants to return to the UFC to fight in MMA again.
Things to Watch For
* Odds have been provided by Betonline and are accurate as of 03/08/2023
Jake Paul and Nate Diaz are not big names in the world of boxing simply because they don't have the resume. Jake has only 7 fights in his professional boxing career and Nate is fighting his first professional boxing match. What they do have is huge fan followings around the world, with Jake Paul having over 24 million followers on Instagram and Nate Diaz with 7 million Instagram followers.
They expect their fans to tune-into this fight and buy the pay per view on ESPN+. We don't expect to see a technical and clinical boxing fight between Paul and Diaz. What we expect is Paul to use his strength and power to see if he can get a KO or TKO over Diaz. We expect Diaz to show his usual grit and tenacity by coming forward and putting the pressure on Jake Paul from R1.
We expect Jake Paul to have the advantage in the first 4 to 5 rounds and if he cannot stop Diaz, then the fight could shift in Diaz's favour as we do know that Diaz tends to get better as a fight progresses. Nate also has a lot of scar tissue that he has accumulated from his MMA career and can cut and bleed easily on his face.
We expect Jake to open him up and that can put him at a huge disadvantage with the judges and the medical staff who could step in to call of the fight, if things get really bad!
Jake Paul (32-0-1)
Current Odds: -400 (1.25)
Jake goes in as the betting favorite and that is not a surprise give the number of factors in his favour. We expect him to use brute strength and power in the early rounds to go for a finish but that could also hurt him if he does not get a finish and blows out his gas tank.
Jake will also be under pressure as he is coming off a loss for the first time in his career and knows how important it is to beat Diaz. He will have to be cagey and use a good game plan to outsmart Diaz, if he cannot get the early KO/TKO.
Nate Diaz (32-0-1)
Current Odds: +320 (4.20)
Nate goes in as the underdog as he does in a lot of his fights. He does not have big KO power and hence we don't expect him to KO Jake Paul. Nate will excel as the fight progresses as he has great cardio and can put Jake under relentless pressure. Nate's biggest strength will be in coming forward and using combinations to tie Jake Paul out and then look to outpoint him in each round and win!
Prediction
Jake Paul will win the fight by TKO.