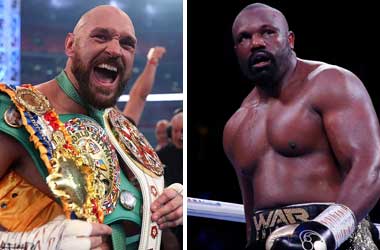 UK boxing bettors are going to close out 2022 with another huge heavyweight fight as Tyson Fury, the WBC heavyweight champion will take on Derek Chisora. These two British boxers are set to face each other on Dec 3 at the Tottenham Hotspur Stadium.
This will be the third time that Tyson 'The Gypsy King' Fury and Derek 'Del Boy' Chisora fight each other. Fury was initially keen on fighting the WBA, IBF, WBO and IBO heavyweight champion Oleksandr Usyk but the Ukrainian fighter wanted more time and said he would prefer to fight Fury in early 2023.
The Gypsy King then called out Brit Anthony Joshua (AJ) even though AJ lost his rematch to Usyk. AJ has always been keen on fighting Fury and giving British fans the biggest heavyweight boxing fight in recent history but once again things did not work out between the two camps and the fight fell through.
Fury was hell bent on fighting once more in 2022 and was willing to fight anyone. His camp finally decided to go back to his old foe Derek Chisora and it did not take both camps long to agree to the terms and conditions and book a fight for Dec 3.
Best Betting Sites To Bet On The WBC heavyweight Bout
If you are looking to bet on the top boxing fights in the world, we suggest registering an account at any of our recommended sportsbooks. All of our featured sportsbooks accept UK players, offer great boxing odds on fights taking place throughout the world and have UK friendly banking options.
The Journey To Fight Night
There's a lot of history between Tyson Fury and Derek Chisora as they go back a long way. The first time these two fought was over a decade ago in 2011 when Chisora was the Commonwealth and British champion. They fought at Wembley and it went to a decision where the judges ruled unanimously in favour of Fury with a 117–112, 117–112 and 118–111 scorecard.
Chisora was keen to get that one back and in 2014, the two fighters decided to fight at the ExCel. Chisora was the WBO and European champion when he faced Fury for the second time but things did not go well for him as the fight ended in the 10th round by corner stoppage.
Chisora goes into this fight with a 33-12-0 record while Fury is 32-0-1 is definitely the A side in this fight. Lots of fans are not sure why Tyson Fury is fighting Chisora for the 3rd time as there is nothing to prove as Fury was dominant in the first two fights. Chisora is going to complain as he is set for a big payday!
Things to Watch For
* Odds have been provided by William Hill and are accurate as of 14/11/2022
Given how dominant Tyson Fury has been throughout his career and the fact that he is 2-0 over Chisora, there is no surprise that is a massive betting favorite heading into this bout. Fury has never lost a fight in his career and in the last few years he has clearly been the most dominant heavyweight champ in the world.
The Gypsy King has fought the best fighters in the world including a fantastic trilogy against Deontay Wilder. After which the world including the Brit wanted an undisputed fight with Joshua at the time, but never quite materialised due to many issues. Fury was ordered to fight the mandatory challenger Dillian Whyte, Fury revealed before the fight he would retire. Fury went out in style against Whyte in April 2022 at Wembley. However, it did not take long for Fury to come out of retirement and pursue a fight with Usyk, Joshua and then eventually Chisora.
A trilogy fight usually makes sense when it is 1-1 or if one of the bouts ended in a draw like the first fight with Fury and Wilder. Chisora gets one final chance to avenge his two losses to the Gypsy King but it's going to be difficult for Chisora who turns 39 in December 2022.
Tyson Fury (32-0-1)
Current Odds: 1/16 (1.06)
Fury knows exactly what to expect when he fights Chisora because even though their last fight was back in 2014, we don't think that Chisora has made significant changes to his style and strategy. The same cannot be said of Tyson Fury who has made massive strides in becoming an all-round better fighter both mentally and technically.
Fury's got a wealth of experience in terms of fighting better boxers than Chisora. Fury also has enormous confidence going into this fight as the Gypsy King has never lost in a boxing ring. The big question is not whether Fury will win but it is how and when will he win the fight!
One of the big advantages that Fury has going into this fight is the huge height and reach advantage that he has over Chisora. Fury is 6'9 and has an 85 inch reach while Chisora is 6'2 and has a 74 inch reach. Fury is also the younger fighter at 34 years.
Derek Chisora (33-12-0)
Current Odds: 10/1 (11.00)
Derek Chisora is currently ranked as the 9th best active heavyweight fighter in the division and knows that he is getting a crack at Tyson Fury only because of their history and not because he earned it. Chisora has won just 1 out of his last 4 fights and that was his last fight against Kubrat Pulev in July 2022.
Chisora goes into this fight without any pressure as everyone expects him to suffer his 3rd loss at the hands of the Gypsy King and that makes him dangerous. However, Chisora does not have any serious tools that can hurt Fury as Chisora is not a KO artist, having won only 3 of his fights by KO.
Prediction
Chisora is going to struggle to find his timing and his range against Tyson Fury. He will have to put himself at risk in order to see if he can land a KO blow but that's going to be easier said than done given that Fury has faced power punchers like Deontay Wilder and survived.
Fury's jab and footwork will be too much for Chisora to handle and we predict a finish before the 8th round, which will be worth a punt or two.