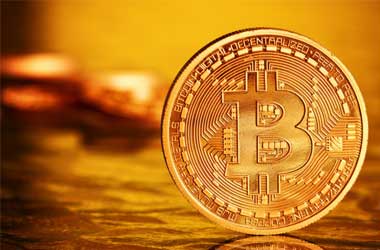 Bitcoin has dropped 14% in the past 24hrs to trade at $8,650 levels. It is the first time the crypto currency has traded below $9,000 since November 26. The sell off, which began yesterday, was partly triggered by Indian finance minister Arun Jaitley's message saying the Indian government will take all measures to curb finance illegal activities using Bitcoin and other crypto currencies. Jaitley, however, did not elaborate on the mechanism which is going to be adopted to ensure the misuse of Bitcoin. The finance minister also said that Bitcoin will never be considered as a legal tender in India.
Bitcoin started facing rough weather right at the start of the year. China initially warned crypto currency miners to move out of the country. It also suggested an orderly exit of crypto currency exchanges. The regulators in South Korea soon joined their Chinese counterpart in discouraging trading activity in crypto currencies. The South Korean regulators continued to send out hostile messages to the crypto market. However, South Korea did not ban crypto currency trading, but imposed a 24% tax on exchanges. The government also stipulated stringent rules for exchanges to accept clients, including the use of real-names for trading accounts. Indonesian authorities, on their part, began a crack down on businesses accepting Bitcoins in Bali.
In the meanwhile, major credit/debit card providers started showing their hostility towards the crypto currency. Initially, Master card and Visa suspended their service for Bitcoin. It was soon followed by Discover card. A few days before Facebook announced a ban on crypto currency and ICO ads. Eventhough the US regulators have approved Bitcoin derivatives to be offered legally by exchanges, still, Bitcoin ETFs is not allowed.
The entire financial system is finding it difficult to adjust to the disruptive force of Bitcoin and crypto currencies. The government fear that crypto currencies may be used by terrorists and drug cartels. Banks are afraid that crypto currencies would take away a major portion of their business. Equity and debt markets are worried that crypto currencies may become more attractive to investors, given the kind of returns made in a short span of time. However, one thing is certain. Bitcoin and crypto currencies are here to stay as countries such as Australia, Japan, Belarus, Thailand, and to a certain extent Russia have been responding favorably to the technological development.
Technically, as the price chart indicates below, we may see a deeper decline in the weeks ahead. There will be only short-term rallies in Bitcoin and that should be used to book profits.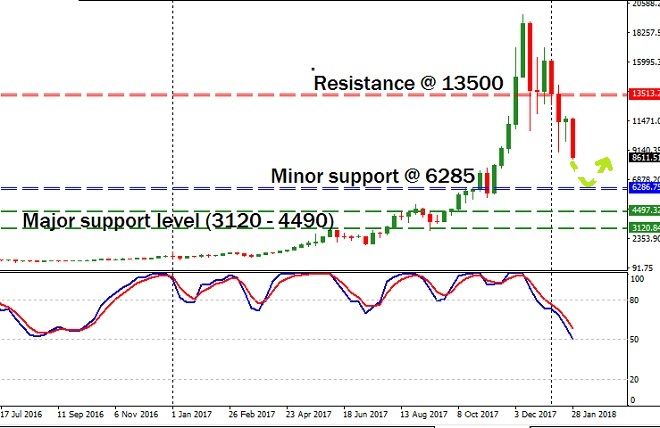 Going by the chart, we may soon see 6,280 levels soon. A reasonably strong bounce back may happen from that level. The stochastic indicator also indicates that the decline will not end any time soon. The level of 13,000 should be broken decisively for the next big rally to happen. Finally, 'hodlers' should be concerned only if Bitcoin breaks below 3,120.