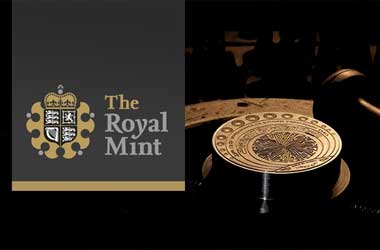 Royal Mint, the 1,000 year old company producing the UK's coins and holding gold, is creating a block chain based coin, known as Royal Mint Gold (RMG). The digital currency will represent the gold stored in the Royal Mint Vault. One RMG coin will represent one gram of gold held in the vault.
Back in December 2016, the Royal Mint unveiled the RMG project. The Royal Mint has partnered with CME Group, the renowned derivatives marketplace, for the creation of RMG. In April 2017, Royal Mint started testing the block chain gold trading platform. The Royal Mint Bullion, which sells physical gold, is the first company to offer a gold backed crypto currency. All RMG transactions will be recorded using a block chain ledger.
The Royal Mint Bullion has mentioned in its website that RMG is an alternative way to invest and trade in physical gold. The bullion company also aims to reciprocate the performance of the London Gold Market with the crypto currency (RMG). The Royal Mint company has also underlined that RMG represents ownership of refined gold, held in the form of bars in accordance with the London Bullion Market Association (LBMA) standard. The gold bars will be held in the highly secure vaults of the Royal Mint company, which will only act as sub-custodian without any claim on the gold.
Tom Coghill from the Royal Mint's RMG division, said:
"We already sell physical gold through our Royal Mint Bullion business and we sell coins and bars. In this sense what we're doing here is simply making that a digital business and allowing for our clients to be able to hold gold for the first time on a blockchain basis. The difference between what we're doing and what other crypto digital assets is that we're a physical tangible asset."
Coghill further said
"It's real gold you're holding when you're holding our RMG. Gold has probably had an argument that it's been a store of value for 6,000 years, Bitcoin's a bit younger and the future of Bitcoin is uncertain."
Bitcoin has been often compared to gold as it is seen as a store of value. Notably, a week before, Australia's Perth Mint had also announced its intention to develop a crypto currency backed by precious metals.