Why France Are Expected To Be Crowned FIFA World Cup Champs
The 2018 FIFA World Cup provided football fans from all over the world a number of exciting matches, shock defeats, eliminations and the showcasing of new stars who made their presence felt on the greatest football stage. France and Croatia are the two teams left standing and they will battle it out on Sunday at the Luzhniki Stadium in Moscow.
France go into the World Cup final as heavy favourites with the bookies and will be quite confident of putting Croatia away.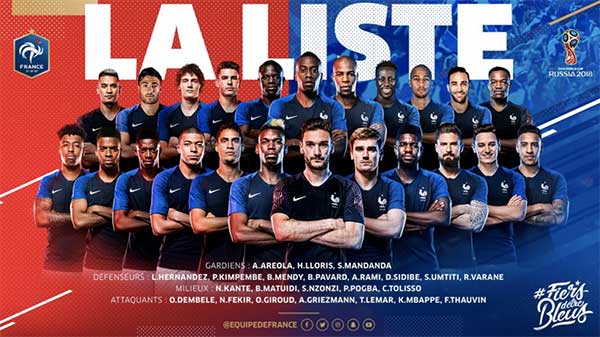 5 key reasons why the French are expected to win on July 15
Strikers
France has two players in Kylian Mbappe and Antoine Griezmann who have already scored 3 goals each. Olivier Giroud and Paul Pogba are yet to score and they will be looking to fix that on Sunday and go down in the record books.
Recovery Time
France finished their semi-final against Belgium on Tuesday and will get an additional day's rest before Sunday's final. Croatia went into extra time on Wednesday against England and they don't have a lot of time to rest and recover for the final. The average age for Croatia's square is just over 28 while France has a young squad whose average age is around 26. This will make a big difference on Sunday.
Speed
We saw from the semi-final that Croatia lacked speed especially when attacking the ball and could end up hurting them. Croatia will have find ways to beat the French defence and that is going to be difficult to do considering how fatigued Mario Mandzukic and Luka Modric looked when they walked off the field.
Experience
It doesn't get any bigger than representing your country in the final of the FIFA World Cup. Croatia have never played a World Cup final and know they are on the brink of creating history and becoming legends in Croatia. France have been there and done that although no player in the current squad has lifted the World Cup. However, their coach Didier Deschamps captained France when they won the World Cup and he will use his experience to guide this young French side on. Deschamps is on the verge of becoming one of the few individuals who have won the World Cup as both player and coach.
X-Factor
Croatia must be very careful of Kylian Mbappe as the teenage sensation has been the star of this World Cup. On Sunday, he will be the fastest player on the field and he has that X-Factor that can make the difference for France.
Fédération Française de Football