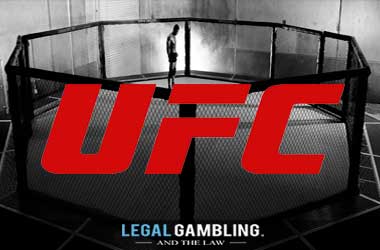 The UFC will head over to Boston, Massachusetts to host another exciting pay per view card on Aug 19.
UFC 292 will be headlined by two championship fights in the Main and co-Main events that will ensure a sold out stadium at the TD Garden in Boston.
The Main Event will see UFC bantamweight champion Aljamain "Funk Master" Sterling defend his belt against the exciting and ever popular Sean "Sugar" O'Malley.
Aljo will defend his title for the fourth consecutive time when he takes on O'Malley.
Aljo has already made it clear that he will leave the bantamweight division after this fight and move up to featherweight in order to give his friend and training partner Merab Dvalishvili a chance to fight for the title as Merab refused to accept a title shot and fight Aljo for the belt because they were friends. If Aljo ends up losing, we don't know if he will push for a rematch or keep his word and go to featherweight!
The co-Main Event will see China's Weili Zhang defend her strawweight belt against Brazil's Amanda Lemos. Zhang has been out of action for a bit as her last fight was at UFC 281 when she beat champ Carla Esparza and won the belt. She will now defend her belt against Lemos who got a title shot after stopping Marina Rodriguez in Nov 2022.
Some MMA fans are a tad disappointed with the rest of the card as a number of fights have fallen through! The UFC had booked Ian Garry vs. Geoff Neal and Cody Garbrandt vs. Mario Bautista on the Main Card but Neal and Garbrandt have pulled out due to injuries.
Best Sports Betting Sites for UFC 292
Those MMA fans who would like to bet on UFC 292, can register at any of our featured betting sites to claim an exciting sign-up bonus and start betting right away!
UFC 291 – what happened?
UFC 291 took place at the Delta Center in Salt Lake City, Utah on July 29 and was headlined Poirier vs. Gaethje 2. This was not a championship fight for a UFC belt but instead UFC President Dana White put the BMF (Bad Mother Fucker) belt on the line and had retired BMF Jorge Masvidal in the arena to wrap the belt around the winner of Poirier vs. Gaethje 2.
This fight was expected to be a barn burner given how their first fight went back in 2018 when Poirier ended up stopping Gaethje. The two fighters entered the Octagon with no bad blood and only respect between them knowing that the BMF belt would add to their legacy and put them in line for a UFC lightweight title fight.
The odds were very close in this fight with Poirier having a slight edge over Gaethje due to the fact that he won the first fight and also had better boxing technique than Gaethje! However, Gaethje showed up prior to the this fight that he wasn't the same fighter anymore as he had abandoned his reckless approach and was a more calculated fighter!
The fight was not expected to go the distance and true to expectations, it was finished in R2. Gaethje threw a surprise high kick and KO'd Poirier to win the BMF belt and put himself in line for a title shot!
* Odds have been provided by BetOnline and are accurate of August 14, 2023
Main Event Breakdown: UFC Bantamweight Championship
Aljamain Sterling is doing a doing a quick turnaround to defend his UFC bantamweight title for the fourth time. Aljo fought as recently as May 2022 when he defended his belt against former UFC bantamweight champ Henry Cejudo who came out of retirement after a 3 year break.
MMA fans expected Cejudo to be the biggest test of Aljo's career but it did not work out that way as Aljo dominated the fight and went on to win by decision. The biggest surprise was the fact that Aljo was able to get the better of Cejudo on the ground as Cejudo is a former gold medal winning Olympic wrestler.
Aljo agreed for a quick turnaround as he is keen to fight the hyped Sean O'Malley, collect a big pay check and then move up to featherweight. Will Aljo be able to have another successful title defense or will O'Malley steal the show!
O'Malley is coming off an impressive win in Oct 2022 when he fought former bantamweight champ Petr Yan and beat him by decision in a 3 round fight. That win earned him a title shot and this will undoubtedly be the toughest test of O'Malley's career!
Odds to win: -260 (1.38)
UFC commentator Jon Anik labelled Aljo the greatest bantamweight fighter in UFC history ahead of this fight. Aljo goes into this fight brimming with confidence after his win over Cejudo. He knows that O'Malley is a tough opponent but does believe that he will be able to get the job done easily.
When it comes to the wrestling department, Aljo is easily the superior fighter and his game plan will be to get O'Malley down, take his back and submit him! However, when it comes to the striking department, O'Malley is definitely better than Aljo.
If Aljo can take O'Malley' down in the early rounds, he will be in command of the fight not only with the threat of submissions but also because he will look to burn O'Malley's gas tank out!
Sean O'Malley (16 – 1 – 0)
Odds to win: +220 (3.20)
O'Malley goes into this fight knowing that he is the better striker but not the better wrestler. His goal will be to stop the takedowns as they will definitely come from Aljo and keep the fight on the feet. O'Malley has said in the lead up to the fight that he knows Aljo makes mistakes when striking and all he needs is one mistake to KO Aljo.
O'Malley has a massive fan base and will likely have more support from the crowd than the champ. Many fans have underestimated O'Malley in the past but the Sugar Show has shown that he can raise his game when the chips are down!
Prediction: We think Aljo might be a little too overconfident going into this fight and that could end up hurting him. We are going to put our money on O'Malley to win by TKO.
Co-Main Event: Women's Strawweight Championship
New strawweight champ Weili Zhang will defend her belt against Amanda Lemos in what promises to be a potential fight of the night (FOTN) contender. Zhang won the strawweight belt after she ran through champ Carla Esparza and submitted her in R2 to win the strawweight belt for the second time at UFC 281 which we had predicted.
The Chinese MMA star is determined to put together a string of successful title defenses starting with Lemos. Zhang has had multiple title fights and will be prepared for a 5 round war while Lemos is fighting for a UFC title for the first time! Lemos booked herself a title shot after two impressive wins in 2022.
She submitted Michelle Waterson-Gomez and knocked out Marina Rodriguez to establish herself as the next title challenger. There is not much different in terms of age as Zhang is 34 while Lemos is 36 and both fighters are 1.63m in height!
Zhang goes in as the betting favorite as she is a complete MMA fighter with no weaknesses on the feet or on the ground.
Weili Zhang (c) (23 – 3 – 0)
Odds to win: -302 (1.33)
Zhang has shown her fans in the past that she will do everything it takes to be in the best shape possible once she enters the Octagon.
She will not shy away from standing and trading with Lemos even though Lemos has shown that she has KO power. Zhang has a great chin and has faced better strikers in the past like former champ Rose Namajunas.
She has also shown that she isn't afraid to take a wrestler like Esparza down and beat her at her own game!
Amanda Lemos (13 – 2 – 1)
Odds to win: +252 (3.52)
Lemos will go into this fight with a lot of pressure as she knows it isn't easy to get a title shot in the UFC. At 36 years old, it could be her only title shot and she has to make the most of it. That kind of pressure can go two ways as it can cause a fighter to raise their game and be unstoppable or it can cause them to freeze and perform below their best.
We don't know how Lemos will perform under that bright lights and the pressure of a championship fight until she steps into the Octagon. What we do know is that she is a great striker and is not afraid to go to the ground. The big question is whether she will have the cardio to keep up with Zhang, if the fight ends up going 5 rounds.
Lemos will need to push forward and look to dominate Zhang in the early rounds in order to win this fight. If she lets Zhang lead the dance and put her on the back foot, it could end up being a long night for Lemos.
Prediction: We expect Zhang to win by TKO.