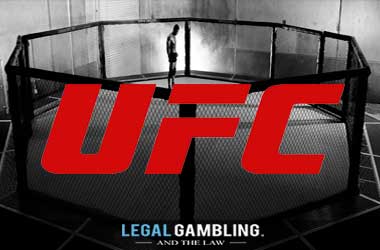 Every July, the UFC ends up running two pay per view cards, one in early July to celebrate International Fight Week and the second at the end of the month. The UFC will run its second pay per view card in July with UFC 291 set to take place on July 29 at the Delta Center in Salt Lake City, Utah.
The UFC usually headlines its pay per view cards with either one or two UFC championship titles on the line but UFC 291 will be different. The UFC has decided to bring back its BMF (Bad Mother Fucker!) title that initially featured at UFC 244 in Nov 2019 when Jorge Masvidal fought Nate Diaz.
Jorge Masvidal ended up winning the BMF belt and UFC President Dana White said at the time that the BMF belt would not be defended as it was a one-off occasion to excite MMA fans. White decided that since Jorge Masvidal is now retired and Nate Diaz is no longer part of the UFC, that it was the right time to put the BMF on the line for Poirier vs. Gaethje 2 which will be a 5 round Main Event!
The co-Main Event will feature an exciting matchup in the lightheavyweight division as former champ Jan Blachowicz takes on former middleweight champ Alex Pereira who is moving up a weight class. Some of the other exciting fights on the card include Stephen 'Wonderboy' Thompson vs. Michel Pereira and Tony Ferguson vs. Bobby Green!
Best Sports Betting Sites for UFC 291
Punters looking to bet on this exciting UFC 291 card, can register at any of our recommended sportsbooks below. Sign-up now and claim an exciting welcome bonus!
UFC 290 – what happened?
UFC 290 took place on July 08 at T-Mobile Arena facility in Paradise, Nevada with two title fights on the line. The Main Event was headlined by the featherweight GOAT Alexander Volkanovski who put his belt on the line against interim champ Yair Rodriguez; while the co-Main Event saw flyweight champ Brandon Moreno face his nemesis in Alexandre Pantoja for the third time in his MMA career.
MMA fans expected Yair Rodriguez to give the champ Volkanovski the biggest test of his career since Yair has such incredible and unique striking ability. It took Volk a few minutes in the first round to read Yair and figure out what he has to offer.
The tide shifted significantly in the second and third rounds as Volkanovski showed that there are levels to this game and he ended up finishing Yair in the third round to retain his belt and prove that he is truly the GOAT of the featherweight division.
The champ Moreno was looking to redeem himself in the trilogy after losing the first two and put up a fantastic fight, given the fact that he ended up breaking his arm in the first round of the fight. It turned out to be a war as both fighters left everything in the Octagon and displayed an extremely high level of MMA skills.
The fight went to the judges and Pantoja ended up edging out Moreno to become the new featherweight champ!
* Odds have been provided by BetOnline and are accurate of July 24, 2023
Main Event Breakdown: Lightweight Bout / BMF Title
If you are new to MMA or would like to introduce a friend to the sport of MMA, you must get them to watch the Main Event at UFC 291 as it is impossible for this fight to be nothing less than phenomenal!
Dustin Poirier and Justin Gaethje are two of the most elite MMA fighters in the world at lightweight and have a resume that will ensure both of them go into the UFC Hall of Fame. This is main reason why Dana White decided it was right to put the BMF belt back on the line because both fighters have the credentials to claim the BMF title and the winner will have former BMF Jorge Masvidal put the belt around their waist!
Dustin Poirier and Justin Gaethje locked horns back in 2018 and they put on a war that fight fans will never forget at UFC on FOX 29 ! Since then both of them have had title shots but have come up short. The two fighters are looking to make one more run at the UFC lightweight title and the winner is likely to get a title shot next!
Poirier won their first encounter by way of stoppage in the 4th round but knows things will be very different in their second fight as both of them have improved greatly since 2018!
Dustin Poirier (29 – 7 – 0)
Odds to win: -140 (1.71)
Dustin Poirier goes in as a slight betting favorite in their rematch and this does not come as a surprise given that Poirier won the first fight by stoppage. Poirier is the more technical striker between the two and also has a decent submission game which he showed in his last fight when he submitted Michael Chandler by RNC.
Poirier has also shown that he can take a shot and still keep going which is going to be a huge factor in this fight because most fighters tend to drop when Gaethje rocks them! What Poirier will have to counter in this fight is those dangerous leg kicks from Gaethje which almost took him out in their first fight.
Poirier also has great cardio and this is going to be a massive factor in the fight, especially if it goes past the third round. Both Gaethje and Poirier fight at an incredibly high pace and Poirier's cardio might end up giving him the edge!
Justin Gaethje (24 – 4 – 0)
Odds to win: +120 (2.20)
While Poirier is the more technical striker, Gaethje is the more dangerous striker! Gaethje is famous for his nasty leg kicks as much as he is famous for his KO power. Gaethje will look to utilize his brutal leg kicks once again against Poirier as it did a lot of damage in their first fight.
The big difference with the Gaethje of 2018 and the Gaethje of 2023 is that Gaethje no longer throws caution to the wind and just stands and bangs! Gaethje has demonstrated great fight IQ in his last few fights, choosing to be more patient and not burn himself out in the first couple of rounds.
We think Gaethje's key to success will be his leg kicks and his ability to learn from the first fight and not make the same mistakes again!
Prediction: We don't expect this fight to go to the judges as both fighters will look for a finish. We are going to back Justin Gaethje to win this won as we believe the more patient Justin Gaethje will be able to take advantage of the weaknesses is Poirier's game!
Co-Main Event: Jan Blachowicz vs. Alex Pereira
The UFC lightheavyweight title is currently vacant after champ Jamahal Hill decided to relinquish the title after suffering an injury that will keep him out of action for a number of months. The winner of Blachowicz vs. Pereira is likely to get a shot at the UFC lightheavyweight belt!
Alex Pereira decided to move up from middleweight to lightheavyweight after losing his belt during his last fight to Israel Adesanya. The Poatan is one of the most dangerous strikers in the UFC and has the ability to take you out with both his fists and feet. His first test at lightheavyweight in the UFC is against former champ Jan Blachowicz who is very keen on regaining his title!
This fight promises fireworks from the very first minute and we will be surprised if it ends up going all three rounds!
Jan Blachowicz (29 – 9 – 1)
Odds to win: +100 (2.0)
The former champ goes in as a slight underdog and that's mainly due to the fantastic striking ability of Alex Periera. If Blachowicz decides to stand and strike with Periera for all three rounds, it will most likely not end well for Blachowicz. He needs to take advantage of Periera's weakness which is in the wrestling department.
Blachowicz has shown in the past that he is good on the ground and he needs to be able to take Periera quickly down and see if he can finish the fight with a ground and pound style. It's not going to be easy as Pereira is training with former lightheavyweight champ Glover Teixeira who fought and submitted Blachowicz at UFC 267!
Alex Periera (7 – 2 – 0)
Odds to win: -120 (1.83)
While most fighters who end up moving from middleweight to lightheavyweight tend to be a bit small for the division, the Poatan has no such problem as he looks perfectly built for lightheavyweight.
Periera is going to be even more dangerous at lightheavyweight as he no longer has to go through that massive weight cut to get to 185lbs. Not cutting so much weight will help him with his cardio and also give him even more power in his striking, which he will rely on heavily to beat Blachowicz.
Periera's will need to ensure that he stops every attempt of a takedown and if he does get taken down, he gets up quickly to his feet or he will lose the fight!
Prediction: We expect Alex Periera to be too power in the striking department for Blachowicz and predict a win for the Poatan by TKO!