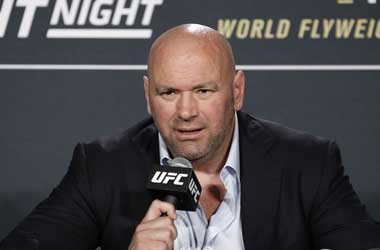 The UFC is coming to Madison Square Garden (MSG) on November 2 to host UFC 244 and for the first time there will be no UFC Champion headlining the Main Event.
The UFC which is the biggest MMA organization in the world has made it a habit to always headline its pay-per-view cards with one or usually two title fights.
This time around the UFC decided to move away from the usual and give into the demands of MMA fans who want to see the two baddest mother fuckers (BMF) on the planet throw down.
UFC President Dana White confirmed that Nate Diaz and Jorge Masvidal will headline the MSG card and will be fighting for the BMF belt.
Fight fans wanted to see the East Coast gangster Nate Diaz take on the West Coast thug Jorge Masvidal in a 5 round fight. The fight came about not because the UFC brass put their heads together and made the fight but because Diaz called out Masvidal once he won his recent fight against Anthony Pettis.
TMZSports
Diaz was the one who cut the promo calling for the two to fight it out in the Octagon to decide who the BMF was in the game. Masvidal was quick to accept the fight and the UFC was quick to book both fighters and fix a date.
The reason the UFC decided to push both fighters to the Main Event is because fans wanted to see a 5 round fight between the two. UFC rules allow for a 5 round fight only when a UFC title is on the line or when the fight is a Main Event. The UFC decided to create a special BMF felt for the fight and Dana White confirmed that they would be spending $50 grand to design the belt.
The BMF belt will be a one-time thing for now according to White. This is a big deal for both Diaz and Masvidal as they will not only get pay-per-view points which increases their fight purse but the winner will most likely also get an opportunity to fight for the UFC Welterweight belt next.
Stacked Card For MSG
Apart from the Main Event, some of the other fights include Darren Till vs. Kelvin Gastelum for the co-Main Event; heavyweights Derrick 'the Black Beast' Lewis vs. Blagoy Ivanov and Stephen 'Wonderboy' Thompson vs. Vicente Luque.
Don't forget to checkout our Betting Opportunities section, for our preview of the main event.. coming soon!!