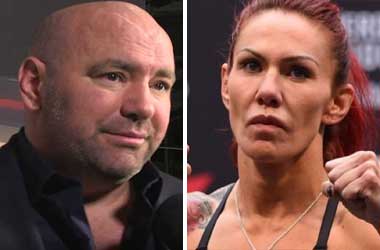 Former UFC women's flyweight champion Cris Cyborg has accused UFC President Dana White of workplace harassment along with long time UFC color commentator Joe Rogan who is known to be a close friend of White.
Cyborg backed up her claims by posting a video on Instagram in which Dana White mocks her by comparing her to Brazilian heavyweight fighter Wanderlei Silva and goes on to imitate her walk.
There is also a clip of Joe Rogan saying on his popular podcast 'The Joe Rogan Experience' that Cris Cyborg has a dick.
Cyborg once known as the baddest woman on the planet fought on 27 July at UFC241 in Edmonton, Canada and came out with a decision win against Felicia Spencer who had an undefeated record. It was an impressive victory for Cyborg who bounced back after her first loss in thirteen years when she was KO by Amanda Nunez at UFC232.
Cyborg has called for the rematch ever since but Dana White has told the media on more than one occasion that Cyborg is ducking that fight and he does not blame her for doing so. Cyborg rubbished those claims during an interview with veteran MMA journalist Ariel Helwani and said that she was keen on the rematch provided she and the UFC were able to work out a new deal.
The UFC241 fight was the light fight on Cyborg's contract and she confirmed that she will only sign a new contract with the UFC if Dana White issues a public apology and offers her the money that she thinks she deserves.
Dana White Is A Bully
Cyborg claimed that she Dana White wasn't interested in building her brand but in destroying her and her brand. The Brazilian fighter claimed that the UFC President has tried to inflict damage on her self-esteem and caused harm to her family, especially her daughter who had to deal with bullying at school over such remarks.
The UFC is interested in signing Cyborg to a 6 fight deal but apparently the money being offered is not appealing to Cyborg and her management. She is willing to do a one-fight deal in order to have the rematch against Nunez in Jan 2020. Cyborg currently has to wait for 3 months to give the UFC an opportunity to exclusively negotiate with her before she can become a free agent and negotiate with other MMA promotions.
Given the fact that it is highly unlikely that White will issue a public apology, Cyborg's days in the UFC are most likely over.