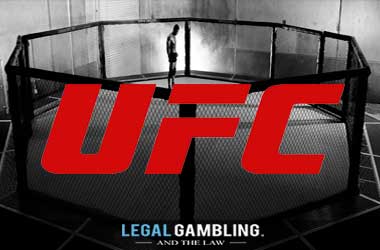 UFC 267 is set to take place this weekend on October 30 at Yas Bay Arena in Abu Dhabi. It'll serve as the promotion's official return to the region which, ever since the start of the COVID-19 pandemic, has served as something of a second home for the UFC with a string of Fight Night and PPV cards emanating from Fight Island.
The card is absolutely stacked from head to toe with the main headline being the two title bouts that will go down in the main event and co-main event.
With UFC 268 also being on the horizon next week, we're in for quite the autumn spectacular – and it all gets underway this Saturday.
Best Sports Sites To Bet On UFC 267
UFC 266 – what happened?
Back at UFC 266 last month, fans were treated to an evening of high tension and drama with a collection of remarkable knockouts, submissions and Fight of the Night contenders. The main event was contested for the UFC featherweight title as Alexander Volkanovski overcame two insanely tight submission attempts from Brian Ortega to hold on and seal a unanimous decision win.
The other big stories were Valentina Shevchenko once again retaining her flyweight crown against Lauren Murphy and Robbie Lawler evening up his series with Nick Diaz after two rounds of carnage.
RYSTUDIOS
* Odds have been provided by BetOnline and are accurate of September 26, 2021
Main Event Breakdown: Light Heavyweight Championship
It's been a fight that's a long time coming but finally, we'll get to see top 205-pounders Jan Blachowicz and Glover Teixeira meet with the strap on the line. These veterans will combine for one of the oldest title fights in UFC history as the 38-year-old Blachowicz and 42-year-old Teixeira attempt to prove once and for all that age is just a number.
Jan Blachowicz (c) (28 – 8 – 0)
Odds to win: -280
The "never give up" tale of Jan Blachowicz is as inspirational as it gets with his last few outings highlighting why it's so important to get back up and dust yourself off after a setback.
The former KSW star has won nine of his last ten with his last three victories over Corey Anderson, Dominick Reyes and Israel Adesanya being the most impressive of them all.
Glover Teixeira (32 – 7 – 0)
Odds to win: +240
We've all come to learn that counting out Glover Teixeira is as foolish as it gets, regardless of how many times he seems to be down and out in a fight.
The Brazilian has won five straight to earn his place back at the top table and in finishing Anthony Smith and Thiago Santos last year, he exemplified the kind of resilience that's so hard to come by at this weight class.
Prediction
Providing this is the fight we get to see, considering Jiri Prochazka is the backup fighter for the main event, we think this one is going to be far more competitive than most people think. Teixeira is an absolute animal once he gets you to the ground and we think he's going to lean on that reputation with some early scares for Blachowicz to deal with.
Ultimately, though, potentially as early as the second round, the legendary Polish Power we've heard so much about will come to the surface once again with a TKO win marking the second straight title defence for the champion.
Preview Of Other Main Events
Title Fight 2: Interim Bantamweight Championship
The rise of the bantamweights has been a long time coming and now, we're at the point whereby it's hard to deny their position as one of the top two divisions in the sport.
Alas, with current champion Aljamain Sterling out through injury, the UFC needs to keep moving forward – which is why former king Petr Yan and Cory Sandhagen will collide for the interim championship on Saturday night.
Petr Yan (15 – 2 – 0)
Odds to win: -210
Eight have stepped up in the UFC and seven have fallen with many still being in a state of shock that Petr Yan isn't the UFC bantamweight champion. "No Mercy" has power, cardio and adaptability that truly does make him one in a million and the vicious nature of his win over Jose Aldo showcases that.
Of course, his needless foul against Sterling cost him the belt, but something tells us that's only served as further motivation.
Cory Sandhagen (14 – 3 – 0)
Odds to win: +180
The amount of people who see Cory Sandhagen as a future titleholder speaks for itself and even though he's had setbacks against Sterling and TJ Dillashaw, this is a deadly individual who can still end a fight in the blink of an eye. He's learning and growing with each and every performance and even though he isn't the biggest talker, his silent assassin persona is almost even scarier.
Prediction
There are so many different avenues that can be explored in this fight but if we're thinking logistically, it makes sense for Sandhagen to force Yan to come after him in the later rounds. "The Sandman" is bigger and should be able to keep Yan at a distance so if he's able to get a few rounds in his back pocket before we reach the fourth and fifth, Yan will probably have to dig deep and show off the intensity we're all used to.
The two most likely outcomes, for us, are Sandhagen winning via decision or Yan scoring a late stoppage. It really could go either way but we're going to back Petr Yan to edge past Sandhagen with a late TKO – but with this being a short notice contest, Sandhagen isn't likely to lose too much in terms of his position in the rankings.