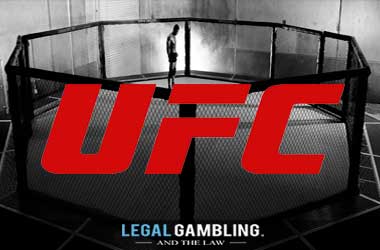 UFC 266 takes place this weekend on September 25 at the T-Mobile Arena in Las Vegas, Nevada. It'll serve as the second pay-per-view event to go down with a full Vegas crowd since the start of the pandemic as fans are treated to a sensational night of action in Sin City.
The main card will see two world title fights take place with a whole lot of anticipation behind both, and beyond that, we'll also get the chance to see the return of two legends for a rematch that has been more than a decade in the making.
The event also marks the return of UFC's International Fight Week festivities for the first time since restrictions kicked in early last year.
Best Sports Sites To Bet On UFC 266
UFC 265 – what happened?
The main attraction back at UFC 265 in Houston was the UFC interim heavyweight title meeting between Derrick Lewis and Ciryl Gane. These two warriors met with the intention of capturing gold, knowing that the winner would go on to face Francis Ngannou for the undisputed crown either later this year or early in 2022.
In the end, it was a one-sided beating from the Frenchman as Gane ran through Lewis in front of his hometown fans, setting up a date with Ngannou that has been a long time coming.
AXIOM COMBAT
* Odds have been provided by BetOnline and are accurate of September 21, 2021
Main Event Breakdown: Featherweight Championship
After a positive COVID-19 test ensured we didn't get to see it earlier this year at UFC 260, Alexander Volkanovski and Brian Ortega will finally meet in one of the most anticipated featherweight title fights of all time. The pair got a pretty good grasp of what the other is like during their Ultimate Fighter season, but all bets are off once they step into the cage.
Alexander Volkanovski (c) (22 – 1 – 0)
Odds to win: -169
Alexander Volkanovski's rise to the top was fascinating to see and once he got there, he made sure to let the world know he means business.
Across two fights against Max Holloway, he was able to neutralise the Hawaiian's forward movement and while some will debate whether or not he should've had his hand raised in the rematch, the Australian star is the one with the belt and that's all that really matters.
Brian Ortega (15 – 1 – 0)
Odds to win: +149
The man known as "T-City" has great movement, power that improves with every fight and a ground game that's enough to make anyone smile.
He came up short in his last push for the championship against Max Holloway but in his return bout with The Korean Zombie, Brian Ortega proved to the world that he is one of the most dangerous non-champions in the UFC right now.
Prediction
This is the definition of a coin flip for some and a minor mismatch for others and in all honesty, it's tough to see which direction it's going to go in. Volkanovski is a technical mastermind when he's at his very best but Ortega has so many different methods in which to win, whether it be from his back or on the feet.
We're going to do with a Brian Ortega TKO win that gives us a new king of the featherweights.
Preview Of Other Main Events
Title Fight 2: Women's Flyweight Championship
Valentina Shevchenko is essentially the Thanos of the women's flyweight division and, sooner or later, there's a chance she's going to extend her dominance even further if she goes after a trilogy fight against Amanda Nunes. This weekend she'll take on Lauren Murphy who is the latest in a long line of UFC underdogs hoping to cause a mammoth upset.
Valentina Shevchenko (c) (21 – 3 – 0)
Odds to win: -1700
Valentina Shevchenko is everything you could want from a women's MMA star and while she may not be a mainstream star in the way Ronda Rousey was, she's still highly respected within the sport. Everything she does just screams "technical perfection" as she attempts to successfully defend her strap for the sixth time.
Lauren Murphy (15 – 4 – 0)
Odds to win: +1000
At the age of 38, you aren't going to find many folks backing Lauren Murphy to do the unthinkable on Saturday but as long as she believes in herself and goes out there with no fear, there's always a chance. Murphy has kept her head down and won five straight to get to the title shot, and there's a pretty good chance this is the one moment in time she'll have to really go after that strap.
Prediction
Betting against Valentina has been a fool's game for many years now and we think that rings true for what we're going to see at the weekend. Shevchenko is capable of causing damage from a parade of different avenues and even though Murphy may fancy her chances at getting her down, we don't think she'll be able to keep her there.
We can see Lauren hanging in there for a respectable about of time but it won't be enough to prevent the finish. With the challenger fading and the champion coming on strong, Valentina Shevchenko will control Murphy and finish her with some nasty ground and pound in the fifth round.
Nick Diaz vs Robbie Lawler
Nick Diaz (26 – 9 – 0) : -109
Robbie Lawler (28 – 15 – 0): -111
After years on the sideline, we're finally going to see Nick Diaz back in the big time when he takes on Robbie Lawler at UFC 266. They first collided all the way back at UFC 47 when Diaz knocked Lawler out at the conclusion of a thrilling encounter, and now 17 years later, both men are hoping to make an equally large statement in Vegas.
Our prediction rests on the idea that Nick's ring rust will just be too much to overcome, leading to a first-round TKO revenge win for Lawler.