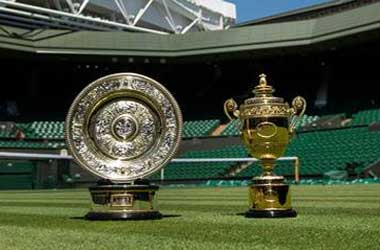 The top tennis players in the world will make their way to the United Kingdom as they prepare for the 3rd Grand Slam of the year. Wimbledon 2023 is set to take place at All England Club in Wimbledon, England and will run from 03 July to 16 July.
Many players consider Wimbledon to be the most popular Grand Slam out of the four Grand Slams each year and do their best to not missing playing at Wimbledon.
They have another reason to show up at Wimbledon as the prize money has increased in 2023. The total prize money at 2022 Wimbledon was £40,350,000 and will now go up to £44 million which is more than a 10 percent increase.
Once again the total prize money at Wimbledon 2023 will be shared equally amongst the men's and women's divisions. The winner in the men's and women's single final will take home £2.35 million each which is a 17.5 percent increase in what the winner's took home at 2022 Wimbledon.
Tennis fans are guaranteed to see the best players at Wimbledon compete in the singles, doubles and mixed-doubles events. Fans should note that a number of big names will not take part at the 2023 Wimbledon. Missing in action will be Rafael Nadal, Karen Khachanov, Marin Cilic, Serena Williams, Simona Halep and Emma Raducanu.
Sports fans in the UK will have a lot of sporting action to look forward in July with the Ashes test cricket series currently going on, 2023 Wimbledon and the Premier League Summer Series.
Best Online Sports Betting Sites To Bet On
If you are looking to bet on 2023 Wimbledon, you can sign-up at any of the below recommended sportsbooks!
What Happened Last year
Novak Djokovic entered 2022 Wimbledon as the number one seed as the Serbian lived up to expectations as he played some great tennis to win his 7th Wimbledon championship. Rafael Nadal who was the second seed also did well and made it to the semi-finals to take on Aussie Nick Kyrgios. It initially looked like it could be a legendary Djokovic vs. Nadal final but sadly the Spaniard could not compete against Kyrgios as he ended up with an abdominal tear that forced him to out of the semi-finals.
Djokovic took on Kyrgios in the final of Wimbledon 2022 and suffered a scare as he lost the first set. However, Djokovic quickly found his rhythm on center court and won the next two sets against Kyrgios. The 4th set was a close one which went to a tie-breaker which Djokovic ended up winning to clinch another Wimbledon championship.
The favorite in the women's singles division going into Wimbledon 2022 was the number one seed Iga Świątek who was surprisingly eliminated in the 3rd round. Her elimination opened the draw up and in the end it was Elena Rybakina and Ons Jabeur who made it to the women's singles final.
Rybakina who is from Kazakhstan was seeded 17th and had a tough opponent in Jabeur who was the 3rd seed. Jabeur ended up winning the first set but Rybakina came back strong to win the next two sets and win her first Wimbledon championship. In doing so, she became the first player from Kazakhstan to win a Grand Slam!
Wimbledon 2023: Latest Odds
Things are changing in the men's single division with Roger Federer now retired, Rafael Nadal on the verge of retiring and Novak Djokovic also nearing the end of his career. Wimbledon 2023 could very well be the turning point in men's tennis with a change of guard.
For that to happen, the young and exciting Carlos Alcaraz will have to win his first Wimbledon Championship to take the baton from Djokovic who is the defending champion. Will the 20 year old Spaniard be able to accomplish this feat or will the veteran Djokovic fight off the younger players to prove that he is still the king at SW19!
Alcaraz and Djokovic have battled it out recently to secure the number one position on the ATP rankings. Djokovic won the 2023 French Open but since then hasn't played which is one reason why he has dropped to number two. Alcaraz has taken the number one ranking after a strong performance that saw him win at Queen's. The two of them will be betting favorites to win at Wimbledon 2023!
There are no big surprises in the women's division as current world number one Iga Swiatek will go in as the betting favorite. The Polish player was also the favorite at Wimbledon 2022 but could not get past the third round. She has won four Grand Slams so far in her career but has a Wimbledon championship has been elusive so far!
Some of the other strong contenders in the women's division include 2022 Wimbledon finalist Ons Jabeur and defending champion Elena Rybakina. If Swiatek and Jabeur fail to make it past the quarter-finals, it will open up the women's division as some of the younger players will look to make a name for themselves by winning their first Wimbledon championship!
Odds have been provided by William Hill and are accurate as of June. 29.
Mens Prediction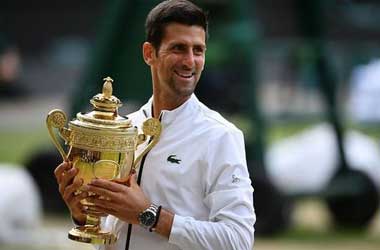 Favourite: Novak Djokovic (4/6)
Novak Djokovic is the favorite to win at Wimbledon and rightly so as the Serb has been dominant at Wimbledon with 7 championships to his name. The defending champ will be looking to tie Roger Federer's record and win his 8th championship this year and in doing so record his 24th career Grand Slam win.
The 36 year old has been in top form during 2023 winning the Australian Open and French Open. His chances to win Wimbledon look great as Djokovic has shown that he is extremely comfortable on the grass courts. His biggest challenge will be staying free from injury as a lot of players tend to pick up small niggles as they get towards the end of their careers.
Djokovic hasn't played a lot after his French Open win and will likely take it a bit easy in the opening rounds. Djokovic will fancy beating all his rivals including Carlos Alcaraz as grass isn't Alcaraz's favorite surface.
Sleeper pick: Carlos Alcaraz (11/4)
The 20 year old hasn't played a lot on grass and it isn't his favorite surface. However, his recent win at Queen's will give him a lot of confidence going into Wimbledon. This was the first ATP title win on grass for the Spaniard. Carlos Alcaraz is the future of men's tennis but he knows that he needs to do well at Wimbledon to prove to the reset of the world that he is worthy of that number one ranking.
Alcaraz has won just one Grand Slam win to his name and that's the U.S Open due to Djokovic not being able to compete. His game is more suited to the clay courts at Roland Garros but Alcaraz is determined to prove that his game is versatile to all surfaces. We expect him to do well at Wimbledon 2023!
Longshot: Daniil Medvedev (12/1)
Daniil Medvedev is currently ranked 3 in the world and is always in with a chance to win any tournament that he plays in. The Russian won the 2021 US Open and has also been ranked number one in the world. Medvedev's performance at Wimbledon will depend on what kind of draw he ends up with.
Other selected odds
Jannik Sinner (14/1)
Alexander Zverev (16/1)
Nick Kyrgios (18/1)
Taylor Fritz (22/1)
Andy Murray (33/)
Alex De Minaur (40/1)
Womens Prediction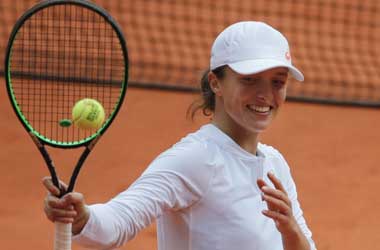 Favourite: Iga Świątek(4/1)
Świątek crashed out at the 3rd round of Wimbledon 2022 but she will once again enter 2023 Wimbledon as the favorite. She is the number one ranked player in the world and has 4 Grand Slam wins. With Serena Williams out of the picture, in the last couple of years the Polish player has established herself as the new leader of the pack!
Świątek does not have a great record at Wimbledon as her best performance till date has been the fourth round at Wimbledon 2021. Former US Open champ Andy Roddick said he is a big fan of Świątek but does not expect her to go all the way at Wimbledon as the grass courts are not her favorite surface.
Will Świątek be able to improve her record at Wimbledon and defy her critics to win her first Wimbledon championship? We expect her to do well as she has to make an adjustment mentally to overcome her challenges at Wimbledon!
Sleeper pick: Elena Rybakina (4/1)
The defending champ Elena Rybakina is ranked number 3 in the world and will look to win back to back Wimbledon championships. Her biggest threats will be Aryna Sabalenka who is ranked number 2 in the world and Iga Świątek. Roddick has backed Rybakina to defend her title successfully as he has called her the best grass court player in the world at the moment!
Long Shot: Ons Jabeur (10/1)
Ons Jabeur may not be the most exciting player to watch on the grass courts but she is extremely hard to beat. The 2022 Wimbledon finalist will be looking to win her first grand slam at Wimbledon 2023. Jabeur does not have the best grass court game but her grit and determination gives her the edge over a lot of the other players.
Other selected odds
Aryna Sabalenka (4/1)
Karolina Muchova (12/1)
Petra Kvitova (12/1)
Cori Gauff (14/1)
Jessica Pegula (20/1)
Caroline Garcia (20/1)
Our Predictions
Carlos Alcaraz has the potential to win Wimbledon but we don't think it is going to happen this year. Djokovic has hit a purple patch with wins at the Australian and French Open and we do believe he will make it three in a row by winning the third Grand Slam of the year and his 8th Wimbledon championship!
While Iga Świątek is the betting favorite for tennis bettors, we don't think she has made the required adjustments to win at Wimbledon this year! We also think it will be tough for Elena Rybakina to win back to back Wimbledon championships and hence we are going to back world number 2 Aryna Sabalenka to win the 2023 Wimbledon championship!