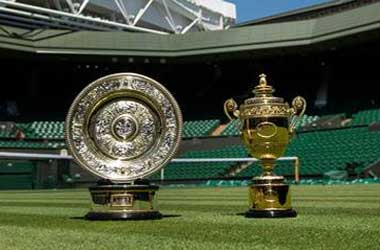 Wimbledon is one of the biggest tennis events on the calendar, with fans looking forward to the summer action from England for the entire year. With grass courts in action, speed is of the essence here, look out for drama, and hopefully plenty of exciting tennis.
The official tournament will begin on Monday, June 28, while the women's final will take place on Saturday, July 10 and the men's final a day later on Sunday, July 11. Wimbledon is the venue for this tournament, one of the most iconic backdrops in tennis.
With centre court headlining things, although court one impressive in its own right, and the hill where thousands of people watch the action across many big screens, this is not one stadium, it is a tennis village and for the next two weeks, it will be bubbling with action.
As ever, there are no guarantees with the British weather, so look out for this to cause problems along the way. Centre court can be played undercover, but the outer courts all need good weather to be able to host play, so if we get English rain, expect delays. We have seen three major tournament withdrawals ahead of Wimbledon taking place.
Best Online Sports Betting Sites To Bet On
The only change due to Covid at the event is the crowds on offer. These will begin at 50% for each court, and this is how the majority of the event will be played.
However, as part of a pilot event by the British government, finals weekend will be played with full capacity crowds in centre court, something that will certainly add to the atmosphere as we crown the two champions of Wimbledon.
What Happened Last year
The 2020 event was cancelled due to the Covid-19 pandemic, so this is the first time we have seen tennis back at Wimbledon since 2019 when Novak Djokovic took home the men's title after a thriller with Roger Federer and Simona Halep won the women's title.
Wimbledon
Odds have been provided by Bet365 and are accurate as of June. 25.
Mens Prediction
In the men's tournament, Rafael Nadal has withdrawn from the event to ensure he is fully fit for later in the year, to try and win the US Open.
Nadal played in the French Open but has then decided to miss out on Wimbledon and the Olympics, to help his body heal and get ready for the US Open.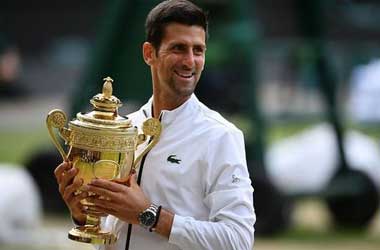 Favourite: Novak Djokovic (1.83)
The current Wimbledon champion from 2019, where he won a thriller with Roger Federer.
Djokovic has a great mindset, he simply wants to get the job done and win tennis games, nothing else matters.
He's an all-time great of the sport, is the dominant force at the moment and has an excellent record on grass surfaces.
You don't win Wimbledon five times without being special, that is exactly what he is, and that makes him a deserving favourite.
Sleeper Pick: Daniil Medvedev (7.00)
The 25-year-old Russian is one of a bunch of players that could well take over the sport and dominate when the likes of Djokovic, Federer and Nadal have all retired.
He's edging closer already, even with these players still around, and comes here as the current number two in the world.
Medvedev has a great game for grass, and if he is going to really come to the fore and dominate a grand slam event, this could be where he does that.
Longshot: Marin Čilić (51.00)
The Croatian has a lot of experience behind him, including a final appearance here back in 2017, and a grand slam title to his name with his US Open win in 2014.
Despite now being 32, he keeps himself in good shape, has been performing admirably on grass so far this summer, and can make his presence felt again here.
Womens Prediction
In the women's event, Naomi Osaka withdrew before the event, citing that she needed a break from the sport due to mental health problems caused by 'press conferences' and wanted to take some time away. Then on the morning of the draw, defending champion Simona Halep withdrew from the event after failing to recover from injury in time to be a part of it and try to defend her crown.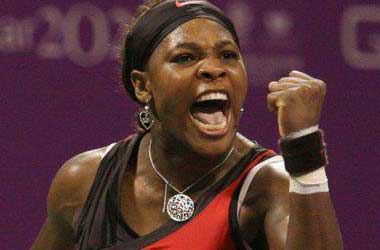 Favourite: Serena Williams (6.50)
She may now be 39, but still one of the best in the world and certainly capable of winning on this stage.
She's won seven Wimbledon titles, and if experience is needed to win then there will be no one else better equipped than Serena to get the job done.
Sleeper Pick: Iga Swiatek (13.00)
The 20-year-old from Poland has already won the French Open, and if we're being honest, grass court play is not her strength.
However, this year, Wimbledon looks wide open and we've already seen a couple of big names pull out too, which weakens the field slightly.
Could that open the door for someone like Swiatek to come in and win?
Longshot: Jelena Ostapenko (41.00)
A previous semi-finalist here, and a player who has been performing very well on grass in the build-up to this, which should put her in the right place to make a Wimbledon challenge.
She's dropped down the rankings but appears to be rediscovering her best and that may coincide with this tournament, which would give her a chance.
Our Prediction
The men's event looks to be there for Novak Djokovic to win, and anything other than him reaching the final would be seen as a major shock.
There is a lack of genuine challengers and although he is a strong favourite, Djokovic would be our pick.
The women's event is the complete opposite, many in with a chance and a small question mark at least over every player.
Backing an outsider may be the best way to solve this based on that, so we are siding with Jelena Ostapenko to continue her bounce back to form and do well here at huge odds.