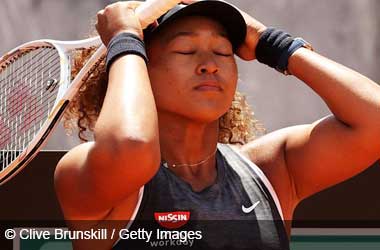 There was a lot of controversy at the 2021 French Open at Roland-Garros over the weekend after the second seed Naomi Osaka refused to do media after her first round win against Romanian Patricia Maria Tig.
Osaka also told officials at the French Open that she would not do any media interviews throughout the tournament as she did not feel comfortable. Players are obligated to meet the media after each match and answer questions not just at the French Open but for all Grand Slam tournaments and most WTA events.
Osaka claimed that she suffered from anxiety and depression and always felt nervous facing the media. While she has tried to overcome this fear, she continues to struggle and hence felt that it was better for her just play tennis and avoid the media.
ESPN
However, the officials at the French Open were not very pleased to hear this as Osaka is one of the top draws for the tournament. They fined her $15,000 for missing out on her media obligations and warned her that she would face bigger fines and sanctions if she skipped out on her media obligations.
Osaka who was our sleeper pick announced on Monday that she was withdrawing from the French Open as she wasn't in a position to meet the media and felt that she needed to take some time away from the tennis courts to work on her mental health.
— NaomiOsaka大坂なおみ (@naomiosaka) May 31, 2021
The whole episode created a lot of controversy in the sports world as other grand slams like the U.S Open and Wimbledon made it clear that they would also impose harsh penalties and sanctions if Osaka decided to skip out on media appearances.
Players Stand Behind Osaka
The 23 year old received a lot of support from both her peers and from athletes outside the tennis world. Former world number 1 Serena Williams said she felt for Osaka and felt like giving her a hug as she knows that it can be very difficult to be under that kind of pressure. Coco Gauff who is just 17, also sent her a message saying that she admired her vulnerability and asked her to stay strong.
Tennis legend Martina Navratilova said that mental aspect of the game was by far the toughest and said she felt sad to see Osaka exit the French Open.
I am so sad about Naomi Osaka.I truly hope she will be ok. As athletes we are taught to take care of our body, and perhaps the mental & emotional aspect gets short shrift. This is about more than doing or not doing a press conference. Good luck Naomi- we are all pulling for you!

— Martina Navratilova (@Martina) May 31, 2021
NBA star Stephen Curry said that Osaka should never have been put in that position as the officials should have done more to protect her.