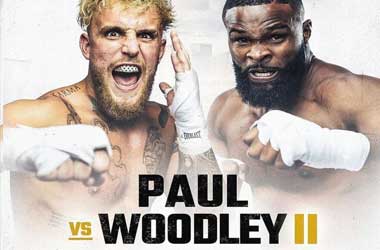 After defeating Tyron Woodley in early August 2021, Jake Paul is looking forward to a rematch that will occur on Sunday 18th December.
The two will meet again for the second time this year after Tommy Fury, the half-brother of Tyson Fury, withdrew from the planned fight after suffering from a broken rib and a chest infection.
After the withdrawal of Tommy Fury, Jake Paul was quick to find another opponent as he will fight against Tyron Woodley. Jake Paul, the YouTuber-turned-boxer, overpowered the former champion of UFC in August by split decision. To secure the victory, Jake Paul went a step further for the first time in his career in Cleveland.
The same regulations that were in place for the first schedule will apply to the Jake Paul vs Tyron Woodley fight, including eight rounds and 192 contesting pounds. Keep reading to discover more about the latest Jake Paul vs Tyron Woodley odds and sites where you can place bets.
Best Betting Sites To Bet On The Paul vs Woodley Bout
If you want to enjoy the latest odds and some highly rewarding offers as well as quick withdrawals, then look no further than on this list of recommended sites. Pick the best site and offer to get started.
The journey to fight night
It is true that this wasn't supposed to be a rematch between Jake Paul and Tyron Woodley. It is a rematch that no fan or punter expected, as Jake Paul was initially set to face Tommy Fury. But after Fury decided to withdraw as a result of medical problems, approximately two weeks before the fight, Tyron Woodley stepped in to accept a rematch.
The first Jake Paul-Tyron Woodley fight went the full eight rounds with judges scoring 75-77, 77-75 and 78-74 in favour of Paul. During the fight, there were some moments when Tyron Woodley came close to defeating Jake Paul, so he is capable of ending the rematch early.
Things to Watch For
* Odds have been provided by GTBets and are accurate as of
This rematch is somewhat of a surprise since Paul was meant to face Fury in one of the highly anticipated fights. It would have been interesting to see Jake Paul fighting a pro boxer for the first time. The YouTuber has a huge test, and he has to ensure that he comes out of the fight on top against Woodley.
He managed his massive win in his career against the popular UFC fighter, and if he does it for the second time, he will have lots of experienced boxers wanting to go tore to tore with him. Also, fans will be looking forward to seeing the styles that each fighter will utilise and how the entire event will occur.
Jake Paul
Current Odds: -275
There is a massive faction of boxing enthusiasts who think that Jake Paul's fighting style is a farce. But across the previous fights, Paul has proven to be a serious fighter. Since defeating Tyron Woodley back in August, he has taken his training seriously, and it is no longer a joke. While Paul is younger and four inches taller, compared to Woodley, he also has more boxing experience.
Paul has been training as a professional boxer for over two years. Under his boxing career, he has knocked out some pro boxers, including "AnEsonGib", a YouTube star and Nate Robinson, a former NBA player. Jake Paul will be using his boxing experience to try and knock out Woodley, one of the most celebrated mixed martial artists.
Tyron Woodley
Current Odds: +220
Tyron Woodley, the 39-year-old and former UFC welterweight champion, has been training with the possibility of fighting again in MMA or boxing in the near future. During the fourth round of the previous meeting, Woodley almost knocked Paul down, but he ended up being defeated through a split decision. Woodley successfully defended his UFC Welterweight title four times. But after experiencing four straight defeats against some of the leading fighters in the division, he was cut from the competition.
Due to his MMA experience, Woodley is popular for his wrestling style and ability. As shown by the five victories in the octagon, including reel knockouts of Josh Koscheck and Robbie Lawler, Tyron Woodley has power in his hands that he can utilise during the rematch.
Prediction
For this rematch, things will be very different from the first fight that occurred in August since these two fighters already understand each other's fighting style. Jake Paul will be focusing on putting a permanent stamp on things this time out vs Woodley. Intentionally saying that he did not knock out Woodley the first time, Jake Paul wants to close the year by being able to boast that he managed to defeat every strong opponent that he has faced.
On the other hand, Tyron Woodley has a massive redemptive opportunity in this fight. Since the first fight ended in August, he has been calling for a refight with Jake Paul. His statements clearly indicate that Woodley will be more prepared and ready for the rematch, especially when he remembers how he knocked Jake Paul back into the ropes in the fourth round of the fight. He is currently more comfortable fighting against Jake Paul than in the previous event.
Despite Tyron Woodley being more ready for the fight than before, we predict that Jake Paul will emerge as the winner. Paul has the advantage in terms of staying busy across the whole contest, which can make him win easily. On top of that, he has the much-needed boxing experience compared to Tyron Woodley, whose main career has been wrestling.
Official Prediction: Jake Paul is the outright winner of the fight.