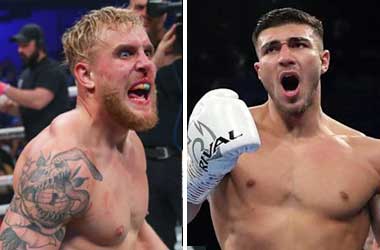 Summary
Tommy Fury cancels fight with Jake Paul on Dec 18
Tyson Fury claims chest infection and broken rib
Jake Paul says Fury chickened out and now looks at Tyron Woodley rematch
Jake Paul was set to fight Tommy Fury, the brother of heavyweight boxing champ Tyson Fury on Dec 18.
The two have thrown barbs at each other on social media to build up the fight and fight fans were looking forward to see YouTube sensation Jake Paul face his first real test in fighting his first professional boxer.
Paul has so far chosen to fight MMA stars and an NBA star. However, the fight will not take place as Tommy Fury has pulled out. Fury released a statement and said that he was battling a chest infection and a broken rib. He would need rest to recover and would not be ready in time for Dec 18 to fight Jake Paul.
Jake Paul Says Fury Family Sketchy
Jake Paul was furious to learn that Tommy Fury had dropped out and he went after the full Fury family by calling them a sketchy family. He said Tyson Fury has pulled out of 5 fights during his professional career and Tommy Fury was following in his footsteps. He said his camp was aware that Fury was batting a chest infection but was surprised with the extra 'broken rib' statement.
Paul claims Fury was scared to fight him and as a result pulled out to save face. When asked if he would entertain fighting Tommy Fury at a later date, Paul said he wasn't very interested because he felt that Fury would pull out again. Paul said he has been in training camp for the last three months and is looking forward to fighting on Dec 18 to close out the year.
TheMacLife
Tyron Woodley Rematch Possible
Finding a replacement opponent in less than two weeks is going to be a challenge for Jake Paul, as they need to find someone who can carry the card as Paul vs. Fury was the Main Event. The likely opponent for Dec 18 is going to be former UFC star Tyron Woodley who fought Paul in August 2021 and lost by split decision.
Woodley is very eager to get his rematch with Paul and secure another big payday. The question is will Tyron Woodley be ready with a short notice fight and will he be able to make weight!