Can US Citizens Safely Play Poker Online?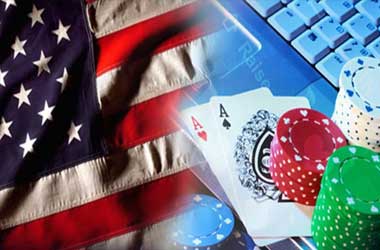 Playing poker online in the United States of America is a very hot and tricky discussion. There are many people, potentially poker players that are still under the impression that online poker is illegal in America. This is fortunately very far from the truth.
It has been confirmed that very few states have laid down laws on the acceptance of poker online, thus it makes this legal in most states.
The only specific exception is Washington State as they clearly state that no US citizen may participate in poker online that is played for real money.
Laws Of Confusion
If you have a look at the misinterpretation of a few other laws, it is easy to see why the people of America might believe that online poker is illegal. One major example will be the UIGEA, The Unlawful Internet Gambling Enforcement Act, this was instated in 2006. If you look at the act in a whole, this is the main reason for confusion. This act is specifically aimed at funds being deposited knowingly to an online gambling site; however, it was mainly aimed at banks and not at the private citizens of America.
The law was put in place to allow America's casinos to get back up onto their feet after a recession and in the process getting people to believe online poker is illegal. By putting this act in place, it was keeping all the money in the country and land casinos were given a chance to play catch-up.
The online gambling potential was greatly misjudged and in doing so local casinos needed to get back into control. They might have thought that it was just a passing phase, however, little they knew that it would become a multi-billion dollar operation.
Wire Act – Very little people are aware that the Wire Act of 1961 was revised early in 2011. This has, in fact, changed a few things regarding online poker. The cases known to Kentucky in 2000, was overruled and settled in favour of the gambling sites. This resulted in non-prosecution of any of the accused casinos. With that cleared, there is no law in the USA prohibiting you to play for real money from the comfort of your own home, or from any mobile device.
Is Online Poker Gambling?
Together with the gambling laws, there has yet been another misconception with regards to online poker being a form of gambling. However, experts have been fighting this saying, as it is believed to be a game of skill with some element of chance. Thus, it cannot fall under the gambling laws.
Another person that strongly believes this is a Federal Judge, who has a detailed and very long 120-page confirmation of a ruling that poker is a game of skill. Poker players confirm this. There are so many different forms of poker and different types, it takes a lot of skill to learn all the rules let alone play them like a pro. After the ruling of the Federal Judge, it has been publicised that poker should be treated as a skill game and not a gambling game. A well-known and respected law firm, hired by a Casino owner, also strongly agreed that Poker does not qualify as gambling, thus the laws of gambling online do not count for online poker.
The question from the public is then stated as where are the trusted online poker casinos? And who of them accept players of the USA. There are still many online casinos that accept USA players and there is more than enough exposure online that will satisfy the poker needs of regular poker players. Keeping in mind that some states make it illegal, however, most of the states allow online poker for real money.
Now that we have the laws and regulations out of the way, let's look at world poker tours and available options to US Players.
World Series Of Poker
For the people that have followed WSOP through the years will know that this is an event not to be missed. Roughly 6500 players participate annually in this tournament, the players for last year totalled to 6683 players and first prize was a massive $10 million!
Before we continue, just take a trip back in time and see where it all started. Back in 1970, there were a total of just 7 players, and it remaining below ten until 1973. Roundabout 1982 they eventually reached triple digits and then it increased gradually. In 1970 the final winner was determined by peer votes, whereas today it will be decided by playing the best final hand.
The event was upon invitation, however, it soon changed to a buy-in minimum of $5000 and after 1972 it remained at $10000 to buy-in on the tournaments.
Now back to reality, the big 2018 on the cards. This event will be ongoing for more than 40 days from May to July; all the best of the best will be present in Sin City for the wildest ride of their life. Only one skilled player walks away with the title of WSOP 2018 Main Event Champion. Any hardcore poker player will be there and play the smaller events up to the high-roller events and if you decide you are going straight for the main event? That will be great too. Whatever you do, do not miss this event; it will surely be classified as the event of the year.
Keep your eyes open for the other big poker tours known as the European Poker Tour and the World poker tour, they are also greatly gratifying, but once you have been to the World Series of Poker Tour, you will never look for another event.
888Poker and PartyPoker are still available to us players. They are sure to join in the action and to satisfy their poker needs. 888Poker has been rated as the number one Poker site for WSOP fanatics. Be sure to join in the action, and if anyone is unsure if online poker is legal in the USA the answer is YES!