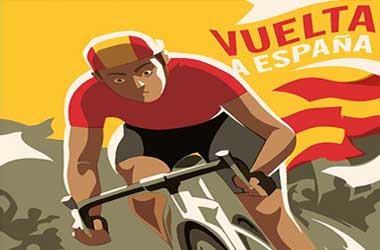 The Vuelta a España 2020 (also known as Tour of Spain) will begin in Irún on Oct. 20, pass through the Pyrenees and conclude in Madrid, Spain, on Nov. 8. The race was originally slated to take place between Aug. 14 and Sept. 6 but got postponed due to the schedule changes brought by the COVID-19 pandemic.
The Vuelta a España 2020 will mark the third and final major European tour race of the season and the 75th edition of the race. This year will also be the first time since 1985 the race will not be 21 but rather only 18 stages long since the first three stages – initially planned to be held in the Netherlands – got canceled. That effectively means 2020 Vuelta a España will (for the first time since 1961) depart from Basque Country.
Vuelta a España is, along with Giro d'Italia and Tour de France, the most prestigious cycling events of the year, which feature some of the best cyclers from all over the globe compete for the red jersey. While the route of Vuelta a España changes every year, the format remains mostly the same – leading the cyclist through the Pyrenees and into the Spanish capital, where the 2020 cycling season will end.
Sports Betting Sites To Bet On Vuelta a España 2020
Cycling Weekly
Last Year
The 2019 Vuelta a España was won by the former professional ski jumper Primož Roglič, who not only won his first Grand Tour race in his career but also became the first Slovenian rider in history to ever wear a red jersey. Rounding out the top three were Alejandro Valverde of Movistar Team and Roglič's compatriot, Tadej Pogačar of UAE Team Emirates, who finished the race in third and most recently became the first Slovenian rider to win Tour de France.
The race for the red jersey was fairly tight for the first 10 stages, at which point Roglič claimed the general classification lead and never looked back. Roglič led the field for all of the final 12 stages of the race and eventually finished 2′ 33″ ahead of Valverde and 2′ 33″ ahead of Pogačar.
Geoffrey Bouchard of AG2R La Mondiale ended up winning the mountains classification, Pogačar ended the race as the best young rider, while Miguel Ángel López of Astana got named as the overall most combative rider at the race.
Despite the changed schedule, the 2020 Vuelta a España is bound to be as exciting as ever and perhaps the perfect opportunity for Roglič to avenge his Tour de France loss and repeat his success from last year. Even though the Slovenian cyclist is billed as the man to beat, there is always an outsider that can impress – the only question is, who will that be this time out?
Cyclists To Watch Out For
Let's take a look at three of the top cyclists to watch out for in this event, along with a dark horse pick with Bet365 and are accurate as of 16/10/2020.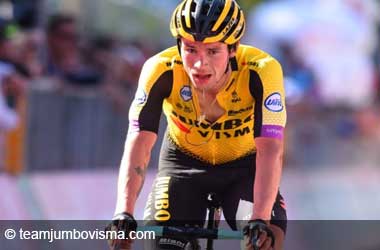 Primoz Roglic
The reigning Vuelta a España champion Primož Roglič will enter this year's race as the odds-on favorite to do it again, which is reasonable to expect. The Slovenian cyclist has been nothing short of exceptional across the last two seasons, and there is no doubt he will be the man to beat in Spain.
Not only has he won his Vuelta a España debut last year, but Roglič also recorded a third-place finish in 2019 Giro d'Italia and last month finished second in Tour de France.
Roglič has decided to skip the Italian race this year, so we can be sure he will be well-rested and ready to defend the title.
Odds to win: 2.62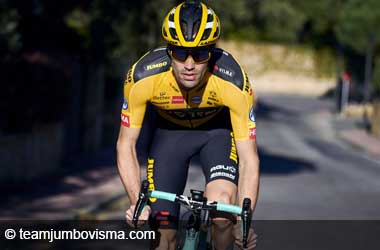 Tom Dumoulin
Priced as the second favorite to win 2020 Vuelta a España, Tom Dumoulin hopes for his second Grand Tour title after he already won the 2017 Giro d'Italia.
The Dutch cyclist is priced at fairly generous odds, which should not surprise anyone since he has not achieved any outstanding success across the past two seasons.
Dumoulin has locked in silver medals from both Giro d'Italia and Tour de France in 2017, but has since not won a single race.
His best performance across the last two years include a fourth-place finish at 2019 Tirreno–Adriatico and a seventh-place finish at 2020 Tour de France.
Odds to win: 4.50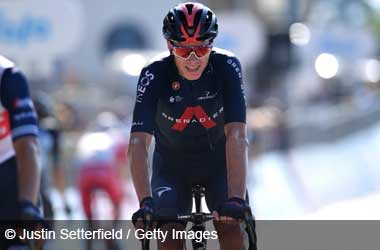 Chris Froome
Chris Froome did not achieve anything remarkable in 2019; however, we have to note he had a few injury setbacks, which prevented him from reaching the same heights he did in 2018. The British-Kenyan cyclist is entering Vuelta a España as one of the most successful competitors in the field and should not be overlooked by bettors.
He has already won the Spanish Grand Tour twice before (2011, 2017) and also has two runner-up finishes (2014, 2016), as well as one fourth-place finish from 2012.
Adding to the long list of his accomplishments are also four Tour de France victories (2013, 2015, 2016, 2017), a runner-up finish from 2012, a bronze medal from 2018 and a Giro d'Italia title from 2018.
It was a rather slow year for Froome with no wins to his name so far. However, with the season coming to a close, Froome will surely be itching to prove he's "still got it" and get his hands on his eighth Grand Tour title.
Odds to win: 17.00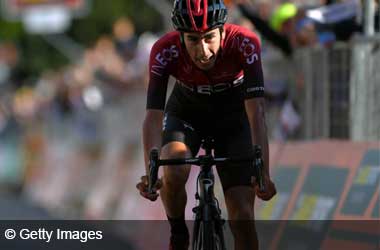 Dark Horse Pick: Iván Ramiro Sosa
Iván Ramiro Sosa can be viewed as a long-shot pick, although it seems highly unlikely he will manage a win in his Vuelta a España debut.
The Columbian cyclist has put together a few noteworthy achievements last year when he won the Vuelta a Burgos, and finished second in Route d'Occitanie, Tour Colombia and Gran Piemonte.
Outside of that, he has yet to prove he can compete with the best.
Sosa made his Grand Tour debut last year when he attended the 2019 Giro d'Italia, but failed to impress. The Columbian cyclist managed a rather poor 44th-place finish, which he will look to improve upon in Spain.
This will mark his debut at Vuelta a España. There is a reason why Sosa is billed as the "next Bernal" as he undeniably has the talent and potential to become one of the greats, but until we see better results from him, it is better to look for betting opportunities elsewhere and rather wait for Sosa to gain a bit more experience.
Odds to win: 26.00
Selected Odds
Richard Carapaz (8.00)
Thibaut Pinot (9.00)
Alejandro Valverde (13.00)
David Gaudu (34.00)
Our Pick
Looking at the layout of the Vuelta a España, it's very apparent that riders who do well on hilly stages will see plenty of success at this year's race. It will – unlike how it was in 2018 – feature only three high mountain stages (Lugones – Lagos de Covadonga, Urdatx-Dantxarinea – Aubisque, and Benidorm – Alto de Aitana) instead of six.
With that in mind, it does not come off as a surprise Froome and Roglič are two of the main favorites both by bookmakers and in our book. As the main prediction, we have to go with Roglič, due to his strong form and the fact that this track will suit him. Froome, meanwhile, can be considered as an outsider bet or at least on the top-three market.