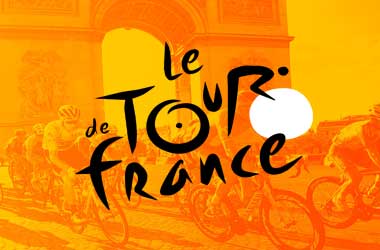 Widely regarded as the world's most prestigious and most difficult bicycle race, Tour de France is set to return to our screens this Saturday, August 29 for the 2020 season. The 2020 Tour de France will mark the 107th running of the annual men's multiple stage bicycle race and the first of three cycling's Grand Tours of the season with Giro d'Italia and Vuelta a España slated to follow in in October.
Initially, the 2020 Tour de France was scheduled to begin on Saturday, June 27, however, due to the COVID-19 pandemic which ushered bans on all mass gatherings in France to extend until July, the International Cycling Union (UCI) opted to reschedule all three Grand Tour races, including Tour de France. Despite the date change, however, Tour de France will follow the same route as originally planned, ending in Paris on Sunday, September 20.
Due to the COVID-19 pandemic, further measures will be in place for the upcoming race, which includes: regular testing of cyclists and team members who will remain in "bubbles" and various other restrictions about the fans, media and their interaction with the riders.
Sports Betting Sites To Bet On Tour De France 2020
The 18-page document outlining health rules also states that if teams reveal two positive cases of the virus amongst staff members and riders from inside their respective "bubbles" they could face possible exclusion from the race, which caused quite a backlash amongst the teams, however, with France reporting close to 5,000 cases of COVID-19 as of Monday, August 24, the strict rules can be justified.
Despite the precautionary measures, however, Tour de France 2020 will play out without any major changes, meaning we are in for another three-week spectacle featuring only the cream of the crop of the professional cycling scene.
Cycling Weekly
Cyclists To Watch Out For
* Odds have been provided by Bwin and are accurate as of 20/08/2020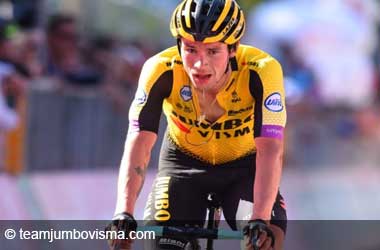 Primož Roglič
This year's route looks to be quite brutal and from the looks of it, it's all about climbing.
Even the first stage, which is billed as the "sprinter's stage" contains quite a few climbs and while it's highly likely one of the sprinters will end up claiming the first yellow jacket, the theme of the race will remain mostly the throughout 21 stages.
When it comes to races that are filled with climbs and lack flat stages, there are a few names that emerge as the favourites, and it's fair to say Primož Roglič is one of them, namely due to his ability to perform on both flats and climbs.
As a member of Team Jumbo-Vista, who have been dominating in the three weeks of racing we have had, Roglič won the Tour de l'Ain and even looked set to claim gold at the Dauphine, but decided to abandon the race on the penultimate day.
While there were some doubts whether Roglič is able to sustain tough climbs, after his win in the Vuelta a España those doubts turned to dust, so it's not surprising to see the Slovenian cyclist enter the race as the odds-on favourite to win his second Grand Tour race.
Odds to win: 2.75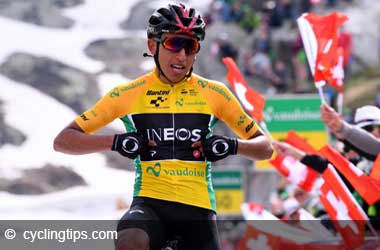 Egan Bernal
As a specialist climber and the defending champion, Egan Bernal will enter the next race priced as the second-favourite.
He has already won La Route d'Occitanie and finished in second in the Tour de l'Ain, which indicates he is in good form, however, it's worth noting that Bernal decided to abandon the Dauphine after Stage 3 to nurse a back problem. Despite his recent success, there are some doubts about Bernal's chances to repeat his success and win his second Tour de France.
He has not been too solid in the warm-up races and often lost the lead in the final moments of the climbs. Having said that, it's worth remembering that Bernal did not look good in the 2019 Tour de France for the first three weeks.
Odds to win: 3.50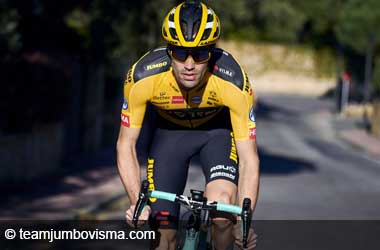 Tom Dumoulin
Similarly to Roglič, his teammate and the winner of 2017 Giro d'Italia Tom Dumoulin has shown great form as of late and is entering the race as the fourth-favourite to claim the prestigious title.
The Dutch cyclist, however, struggled with his results ever since he managed a runner-up finish in both the Giro and Tour de France in 2018, seeing how his best placement came in 2019 when he claimed a fourth-place finish at the Tirreno–Adriatico.
Nevertheless, with the transition to a more GC-focused team, it's fair to expect Dumoulin to perform better, although it remains to be seen whether he will manage to recapture his old form.
Odds to win: 9.00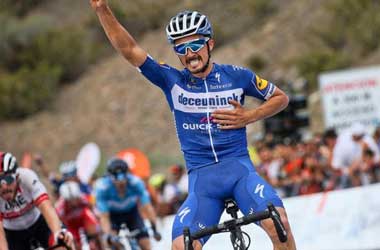 Dark Horse Pick: Julian Alaphilippe
Julian Alaphilippe looked exceptionally good in the previous iteration of Tour de France, where he led for 14 stages and ended up in a fairly impressive fifth place, which was a huge jump from his 33th-place finish in 2018.
The French cyclist also finished in second at the Milan–San Remo earlier this month, which is a strong indication he is set to make some noise across the next three weeks.
What makes Alaphilippe a dangerous rider here is not only his potential but also the fact that the 2020 route will suit his style since we will see significant stages spread across three weeks instead of them being concentrated in blocks.
Odds to win: 34.00
Selected Odds
Here are the current odds for the 2020 Tour de France set to kick off later this month.
Thibaut Pinot (8.00)
Nairo Quintana (34.00)
Adam Yates (51.00)
Wout van Aert (301.00)
Our Pick
After a successful prediction last year we take another stab at it with the four riders we have mentioned coming off as solid picks, however, we would avoid betting on Roglič since the odds seem far too low given how stacked the field is. Instead, we find placing a bet on Dumoulin to offer far more value of the Jumbo-Vista duo. The latter has looked significantly better since changing teams and considering he has already finished second here last year, it's only fair to assume he will manage another solid finish this time out.
Julian Alaphilippe is an excellent long-shot bet for the upcoming race since he has shown enough for us to believe there is a real possibility he could emerge as the surprise winner. Alaphilippe is in good form and the style of the 2020 Tour de France seems to suit him, so there is no reason to believe Alaphilippe can't impress and possibly earn us a nice payout.