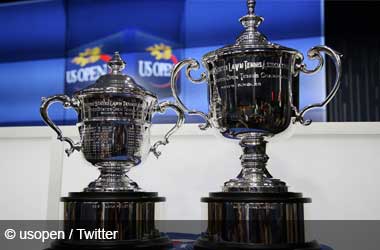 The 2023 US Open which is the final Grand Slam of the year will once again take place at Flushing Meadows, New York. The 4th Grand Slam of 2023 will run from 28 Aug to Sep 10, with the best tennis players in the world competing to see if they can win a US Open Championship!
The 2023 US Open will see the return of Novak Djokovic who missed the 2022 US Open due to the COVID-19 situation. Djokovic has refused to take the COVID-19 vaccine and as a result has not travelled to America to play in any tournaments during the last 2 years. Given the change in COVID-19 vaccine requirements in America, Djokovic will now take part in the 2023 US Open.
The US Open is once again pushing the bar as the overall prize money has increased by 8 percent in 2023. The 2022 edition of the US Open saw just over $60 million in prize money given away while 2023 will see over $65 million in prize money distributed. This is a special edition of the US Open as it marks the 50th anniversary since men and women started receiving equal compensation.
The 2023 US Open champion in the men's and women's division will take home $3 million in prize money which is a big 15% increase compared to the $2.6 million that the 2022 US Open men's and women's champions received. The runner up at the 2023 US Open will receive $1.5 million in prize money.
The doubles team that wins the 2023 US Open will get $700,000 in prize money while the runner-ups will get $350,000. All players at the US Open will get $1,000 in travel allowance.
The 2023 US Open will be without some of the biggest names in tennis. American Serena Williams who many felt would be playing her last US Open will not play this year. Serena just gave birth to her second child in August and has no set date to return to action.
Also missing in action is former world number 1 Rafael Nadal who has not played tennis after crashing out of the 2023 Australian Open. 2021 US Open champion Emma Raducanu is also not competing as she is recovering from a wrist injury. Aussie bad boy Nick Kyrgios who made it to the quarter-finals last year will not take part this year as he is recovering from a knee injury.
However, there are still a lot of top stars taking part in the 2023 edition along with a lot of exciting young talent. Keep reading to find out who are the betting favorites and who our experts think will win the 2023 US Open.
Best Online Sports Betting Sites To Bet On
Punters who are looking to bet on the 2023 US Open, can register at any of our recommended sportsbooks below.
What Happened Last year
The men's division was pretty open at the 2022 US Open with no Roger Federer and Novak Djokovic to deal with. Daniil Medvedev went into the tournament as the top seed, while Nadal was the second seed. However, both of them lost in the fourth round, which made things very exciting for a number of younger players.
Carlos Alcaraz who was the third seed made it to the finals after going through a tough draw. He had to save a match point during his quarter-final match against Jannik Sinner and showed how tough he was mentally to not only bounce back and beat Sinner but to make it to the finals.
Norwegian Casper Ruud played extremely well throughout the tournament and booked himself a place in the finals and set up a clash with Carlos Alcaraz. The final turned out to be an exciting match for fans in attendance and around the world. In the end it was the Spaniard Alcaraz who triumphed to win 6–4, 2–6, 7–6(7–1), 6–3.
Carlos Alcaraz not only ended up winning his first US Open Championship but in doing so also secured the world number one ranking!
In the women's division, Iga Świątek went into the 2022 US Open as the number one seed and full of confidence as she already had a grand slam to her name in 2022, after winning the French Open. She played like the number one seed throughout the tournament and made it to the final.
Anett Kontaveit, Maria Sakkari, and Paula Badosa who were seeded two, three and four respectively exited the tournament in the second round, leaving it open for the rest of the playing field. Ons Jabeur who was the 5th seed, had a fantastic run and made it to the final to face Świątek.
The first round in the final turned out to be pretty one sided with Świątek establishing her dominance. Jabeur fought back in the second set but Świątek held her nerve to win the 2022 US Open 6–2, 7–6(7–5).
US Open 2023: Latest Odds
Defending champ and current world number one, Carlos Alcaraz will enter the US Open as the number one seed and his biggest threat will be from the number two seed Novak Djokovic. Based on the draw, Alcaraz could end up facing Sinner in the quarter-final yet again and will need to be at his best to advance.
Djokovic will be delighted to be back at the US Open after missing last year due to the COVID-19 situation. The Serbian will be eager to win another US Open and show that he has not missed a beat at Flushing Meadows. Djokovic who is ranked two in the world rankings has won three US Open championships will be looking to win his 4th US Open title and his 24th Grand Slam.
Alcaraz beat Djokovic at the 2023 Wimbledon final and surprised many as grass isn't the Spaniard's favorite surface. Djokovic got his revenge back when he beat Alcaraz at the Cincinnati Open a few days ago. Fans would love to see the two best players in the world battle it out on center court in the US Open final.
Some of the other players to watch out for in the men's division include Daniil Medvedev, Stefanos Tsitsipas, Jannik Sinner and Holger Rune.
In the women's singles, there's no surprise to see defending champion Iga Świątek enter as the number one seed. She is once again a betting favorite to win the 2023 US Open. Świątek won the 2023 French Open and would love to add another grand slam to her resume at Flushing Meadows.
Her biggest threat is likely to come from the number 2 seed Aryna Sabalenka who won the 2023 Australian Open. She made it to the semi-final of the 2022 US Open and got beaten by Świątek. Sabalenka will be keen on avenging that loss and showing that she has learned from her mistakes.
Some of the other players to watch out for in the women's division include third seed Jessica Pegula, fourth seed Elena Rybakina and 2022 US Open runner-up Ons Jabeur.
Odds have been provided by BetOnline.ag and are accurate as of August 25.
Mens Prediction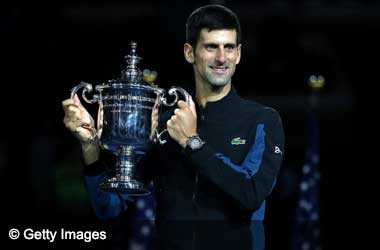 Favourite: Novak Djokovic (+125)
Many tennis fans believe that the Federer, Nadal and Djokovic era has come to an end and it is now time for the new generation to take over. When Alcaraz beat Djokovic to win the 2023 Wimbledon Championship, it felt like there was a passing of the guard.
Djokovic rubbished those claims by beating Alcaraz at the Cincinnati Open to show he still has it!
The 36 year is supremely fit and will be eager to remind his American bettors that he still rules the men's division.
Djokovic has a relatively easily draw, playing his first match against Alexandre Muller who is making his debut at the US Open. Djokovic goes in as the betting favorite and his biggest threat will be Alcaraz!
Sleeper pick: Jannik Sinner (+185)
Don't sleep on Jannik Sinner as he showed just how good he was during the quarter-final of the 2022 US Open when he came so close to beating Alcaraz. It was a difficult loss for Sinner who lost a match point against Alcaraz and then went on to lose the match and exit in the quarter final.
The way the draw is, Sinner could end up meeting Alcaraz in the quarters yet again. If he manages to beat Alcaraz, then that momentum could make him a serious contender to win the 2023 US Open.
Longshot: Alex De Minaur (+25000)
No one expects Alex De Minaur to win the 2023 US Open but we think the 24 year old Australian has a longshot to surprise the sportsbooks and the fans and do something special. For him to win, some things will need to work in his favour!
If Alcaraz and Djokovic end up with surprise losses in the early rounds, it could pave the way for someone like Alex De Minaur to win his first US Open championship.
Other selected odds
Daniil Medvedev (+1000)
Stefanos Tsitsipas (+5000)
Holger Rune (+5000)
Alexander Zverev (+5000)
Frances Tiafoe (+6000)
Women's Prediction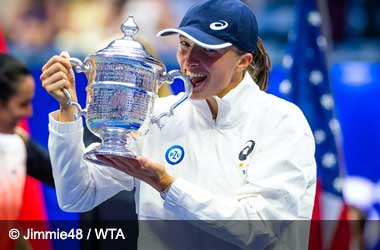 Favourite: Iga Świątek(+240)
Iga Świątek goes into the 2023 US Open as the betting favorite just like she did at the 2022 US Open. She did not disappoint her fans on those who bet on her during the 2022 US Open and the defending champion has everything is takes to win back to back US Open titles.
She goes into this tournament with a 53-9 record in 2023 with 4 titles to her name this year. Her biggest challenge will come from Elena Rybakina who beat her at the 2023 Australian Open in the R16 and American Coco Gauff who beat her at the 2023 Cincinnati Open.
However, Świątek has the ability to lift her game in big tournaments and has a pretty easy draw during the early rounds.
Sleeper pick: Ons Jabeur (+2500)
We have the 2022 US Open runner-up Ons Jabeur as our sleeper pick because no one including the sportsbooks expect the Tunisian to win the US Open. Jabeur has faltered in the big matches and has never won a grand slam till date.
However, we feel that she continues to get better with every year and has that determination within her that she has what it takes to win a grand slam. She could surprise everyone and win her first grand slam at the 2023 US Open.
Longshot: Madison Keys (+6600)
If you are looking to take a longshot, then go ahead and bet on American Madison Keys who is the 17th rank seed. The 28 year old has never won a grand slam tournament but at one stage was ranked number 7 in the world back in Oct 2016.
We expect a good performance from Keys who will play well on home soil!
Other selected odds
Aryna Sabalenka (+450)
Coco Gauff (+700)
Elena Rybakina (+800)
Jessica Pegula (+1000)
Marketa Vondrousova (+2200)
Our Predictions
It is only a matter of time before Carlos Alcaraz dominates the men's singles division as Novak Djokovic is getting closer to the end of his career. While Alcaraz has age on his side and all the tools necessary to beat Djokovic, we don't think he is going to beat Djokovic in a second consecutive grand slam final.
Our experts back the Serb to raise his game in front of US fans and win his 4th US Open and 24th grand slam title and in doing so reclaim the world number 1 ranking from Alcaraz.
While Iga Świątek is the defending champ and the favorite to win, we think it is going to be difficult for her to win back to back US Opens. Elena Rybakina will be a big threat but watch out for American Coco Gauff could end up surprising a lot of people to win the 2023 US Open championship.