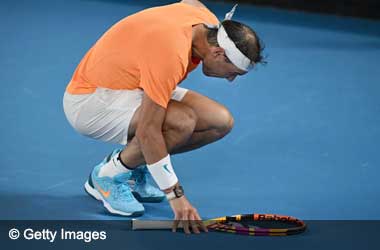 Summary
Defending champ Rafael Nadal crashes out in round two
Nadal went down to American Mackenzie McDonald in straight sets
Nadal closer to retirement as hip injury makes things difficult for him
Rafael Nadal won the 2022 Australian Open and was very keen on defending his championship this year at Melbourne Park.
The Spaniard was ranked as the number one seed for the 2023 Australian Open and was expected to have a relatively easy match in the second round when he took on American Mackenzie McDonald.
Rafael Nadal Beaten In Straight Sets
Things did not go as per plan for the 36 year old Nadal as he found it tough going against the 27 year old California native who is ranked 48th in the world. Nadal did not look himself during the match as he was hampered by what looked like an hip injury and found it difficult to play his usual high intensity game.
Nadal left the court during his match to receive medical treatment in what could either be a mid-section injury or a problem with his hip. Those details are yet to be disclosed as Nadal returned to the court and continued to play but was obviously hampered by the injury.
Nadal ended up losing in straight sets, going down 6-4 6-4 7-5 to McDonald who now moves on to the third round and will play Japan's Yoshihito Nishioka who is ranked number 31 which Australian bettors may get some good odds on. This is undoubtedly the biggest victory in McDonald's career and he will look to use that momentum to keep progressing at Melbourne Park.
Nadal Closer To Retiring Now With New Injury
Nadal has battled a number of serious injuries in the last 5 years that has significantly impacted him. However, his grit and determination has helped him overcome all of those injuries and go on to win 22 Grand Slams.
That grit and determination is what pushed Nadal to return to the court after receiving medical treatment as he told reporters that he did not want to retire hurt being the defending champion. He preferred to give it his all and lose, rather than retiring hurt due to his injury.
Nadal was honest and told reporters that this latest injury made him feel that he wasn't just physically hurt but also mentally destroyed. However, he says he still has a passion for the game and would not consider retiring due to the injury which which should be some comfort for tennis fans around the world.