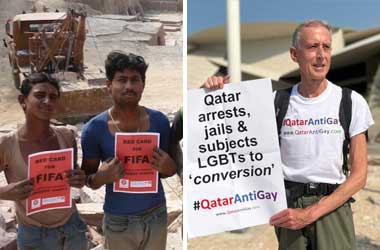 Summary
Australia becomes first country to criticize 2022 World Cup hosts – Qatar
Qatar criticized for thousands of migrant deaths and inequality towards LGBTQ+
Qatar responds to Australia claiming no country is perfect!
The 2022 FIFA World Cup will take place from 21 Nov to 18 December in Qatar and will be the biggest sporting extravaganza of 2022 with billions of people from around the world tuning into to see their favorite teams compete to become the 2022 FIFA World Cup champions.
As we get closer to the start of the 2022 FIFA World Cup, hosts Qatar are beginning to feel more pressure as the international community and participating teams call them out for their atrocities.
Australia Criticize Qatar Over Human Rights Abuse
Australia has now become the first country participating in the 2022 FIFA World Cup to openly criticize Qatar. Unlike when Gareth Southgate (England's head coach) spoke, as many as 16 Australia players released a video and spoke out against the multiple atrocities that are taking place in the host nation ahead of the World Cup.
Australia players first pointed out to the human rights abuse as thousands of migrant workers are reported to have lost their lives in Qatar during the last few years as they worked on developing new football stadiums for the World Cup.
Qatar like most countries in the Middle East relies heavily on migrant workers from countries like India, Bangladesh, Pakistan, Afghanistan and Sri Lanka for their infrastructure projects. It's common knowledge that migration agents exploit these labourers by over promising and under delivering. Migrant workers have their passports seized on arrival in Qatar, are herded into inhumane accommodation and have to work long hours for low wages.
Reports suggest that over 60,000 migrant workers have lost their lives in Qatar to build football stadiums for the World Cup. The Socceroos highlighted the fact that Australia consistent of a large migrant population and it was imperative for Qatar to do more to protect migrant workers and ensure that they are not exploited.
Qatar Should Decriminalize Same Sex Relationships
The Socceroos also criticized Qatar for its stance on same sex relationships. Qatar which is an Islamic country has laws that make it illegal for same sex relationships. The Australian football team said that all individuals in Qatar need to be treated equally irrespective of their sexual orientation.
Qatar responded to the video with a simple sentence stating that all countries are not perfect. Will other countries follow Australia's lead and criticize Qatar or will they stay silent?