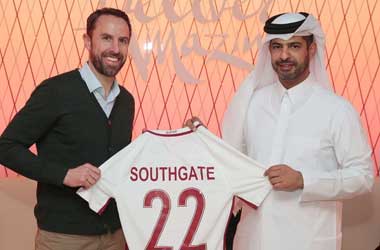 Summary
2022 FIFA World Cup group stage draw takes place in Qatar on 01 April
England manager has mixed opinion about Qatar
Qatar CEO advises manager to speak carefully
Qatar is set to host the 2022 FIFA World Cup with the draw for the group stage of the World Cup set to take place on 01 April. Qatar won the bid to host the FIFA World Cup in 2010 and has poured in a lot of money and effort into the construction and development of football stadiums to host the World Cup.
The World Cup was initially set to take place this summer in Qatar but due to the intense heat in the country, it was rescheduled to take place this winter with the first game starting in Nov 2022.
Gareth Southgate Has Mixed Feelings On Qatar
Qatar tends to hire migrant labourers from mainly India, Bangladesh, Pakistan and Nepal and there have been many reports of them being treated poorly and having to work in inhumane conditions.
England manager Gareth Southgate has been very vocal on his thoughts about Qatar in recent times, when he should be focused on the team. Southgate has brought attention to the fact that there have been 6,500 migrant deaths in Qatar that was reported since the country was awarded the rights to host the FIFA World Cup and 37 of those deaths were directly tied with the construction of football stadiums.
Southgate also pointed out that Qatar has a very strict stance towards homosexuality and same sex marriage. Homosexuality in punishable by law and the rights of women are not equal with men in Qatar. Southgate pointed out that due to these reasons that some English fans might think twice about coming to Qatar for the world cup. Southgate also seems to forget that people who are visiting foreign countries also have to respect the current laws even if they do not agree with them, Qatar only asks for no public display of affections, which as a Muslim country is frowned upon – I'm sure fans can restrain themselves for a short time, don't you think?.
Southgate Cautioned To Think Before He Speaks
Nasser al Khater, CEO for Qatar 2022 wasn't very pleased to hear Southgate take a dig at Qatar and the FIFA World Cup. Nasser spoke to the media and said that Southgate was making remarks based on what he reads in the media but wondered if he had ever been to Qatar!
Nasser sent out a warning to Southgate telling him that he should be careful of what he says in the media given the fact that he has a big fan base. Nasser said that he should speak to some of the migrant workers and learn how they have been able to pay for their children's education back home and improve the family's standard of living!
Southgate is yet to respond to Nasser's comments!