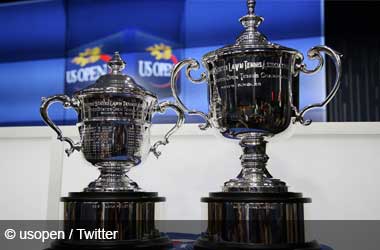 The U.S Open qualifiers have already begun but we will see the real tournament start up on Monday with the top 128 players from both men's and women's tennis square off in New York, New York.
As the fourth major championship on the tennis schedule, this is a 2 week event that will run from August 26th to September 8th, hopefully temperatures won't reach the dizzying heights of last year.
We are turning back to a hard surface, where most tournaments have been played following Wimbledon, which is the centerpiece of the grass court season. This hard surface at Arthur Ashe Stadium is basically a middle ground when it comes to surface speed, which is why I would consider it the most balanced surface for different playstyles.
When you look for players at the U.S. Open, the biggest key here is being the better tennis player, which may sound obvious, but that is not always the case.
Best Online Sports Betting Sites To Bet On
These surfaces should allow elite services to win matches, but they will also allow finesse players to return services and play at a high level. I love a typically elite grass player vs. a typically elite clay player at the U.S. Open because it really tests all facets of your game as a player
US Open Tennis Championships
Mens Prediction
Favourite: Novak Djokovic (+110)
Novak Djokovic is a significant favourite compared to any other player in the field and this is due to his well-rounded play and dominance of late. Djokovic has not failed to reach a semifinal since April and is almost guaranteed to beat every player he faces that is not a top 15-20 player in the world the way he has played in majors recently.
I believe that Djokovic is the best bet on the board if you want to hit the winner, and the price at +110 is not bad at all for a profit on the other side.
Sleeper Pick: Daniil Medvedev (+1600)
Medvedev has the 4th highest odds on the board, but is still a really nice price at +1600. Now, you are probably overpaying a bit due to his recent success in Cincinnati, where he actually beat Novak in the semifinals. However, I think that that confidence should carry him throughout this tournament and I think that his recent win over the Joker gives him a huge mental edge if they were to face off again.
Longshot: Felix Auger-Aliassime (+10000)
Auger-Aliassime has struggled a bit of late compared to his run earlier in the year that vaulted him into the global conversation. That is why we get him at such a cheap price here and I am comfortable taking advantage of it.
Felix is only 19 years of age and has already thrust himself into the elites of tennis. Although he has not broken through fully yet, we are close to his home country and he has elite talent to flash in any single match. Maybe he can catch fire and become a problem late into the tournament.
Other Selected Odds
Roger Federer (+500)
Alexander Zverev (+2500)
Stefanos Tsitsipas (+2500)
Nick Kyrgios (+4000)
Kevin Anderson (+5000)
Sam Querrey (+18000)
Womens Prediction
Favourite: Serena Williams (+500)
Serena is back at home at the U.S. Open, where she has won 6 times with a win rate around 89% overall here. Serena thrives on hard courts and should be suited well to get back into the finals once again.
Just like at Wimbledon, the field is very open on the women's side and this allows you to take advantage of someone as talented as Williams at a number like +500. She was my favourite play in the last major and at +800, you could easily hedge off of her in the final to make money both ways.
Sleeper Pick: Angelique Kerber (+1400)
Kerber has not been on the top of her game right now, but I am banking on long-term success and skill here. Kerber has an incredibly well rounded game and is always very feisty to put away in majors. I expect Kerber to have a bounce-back performance in New York.
Longshot: Sloane Stephens (+2500)
With so much depth at the top of women's tennis, I think that asking a second level player to win 3 or 4 matches against higher level competition is just too much to ask. That's why I love Stephens at +2500.
Sloane Stephens is ultra-talented and very capable of catching fire and just being better than most of the women she faces. Her road is not easy, but the talent is too good to pass up at the price.
Other Selected Odds
Simona Halep (+650)
Karolina Pliskova (+1300)
Petra Kvitova (+2000)
Aryna Sabalenka (+3000)
Victoria Azarenka (+6600)