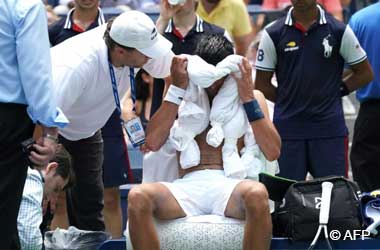 For the first time in the US Open's illustrious history, the men's matches had to be paused for a 10-minute break because of the stifling heat. Temperatures soared into the mid-90s but the humidity made it feel like it was 105 at Flushing Meadows. While the women's tour has a rule that calls for a 10-minute break after the second set if temperatures exceed 86.2 Fahrenheit, it is up to the tournament officials in men's competition. Heeding the advice of the US Open's medical team, officials allowed the men to take a 10-minute break.
Despite the breaks, the oppressive heat has taken its toll causing a few competitors to drop out. Lithuania's Ricardis Berankis was forced to retire due to a heat stroke during the fourth set while Italy's Stefano Travaglia was also forced to call it a day when he was forced out by cramps that were brought on by the heat.
The heat policy which is currently in effect is still being enforced at the discretion of tournament officials who say that it could be dropped on short notice if it cools off. The forecast for Wednesday calls for temperatures to be in the mid-90s. The heat rule doesn't make the 10-minute breaks mandatory. Play can go uninterrupted if both players agree to play on but the 10-minute break starts if one player elects to leave the court. Coaching and medical treatment are prohibited during these breaks.
CNBC Life
Tough To Come Out Of The Break
Marton Fucsovics took an ice bath during his break but regretted it as he tightened up on returning to the court and was easily defeated by Novak Djokovic.
Andrea Petkovic also regretted how she spent her time during a break in her match against Jelena Ostapenko at Louis Armstrong Stadium. She said that it felt it was extremely hot on the court once she returned from resting in an air-conditioned room. Players use to warmer climates such as Florida resident Caroline Wozniacki brush the searing heat off a little more easily and pointed out that it's the same for both players.
Closing The Roof – An Option
The rules make no provisions for closing the roofs at Arthur Ashe Stadium or Louis Armstrong Stadium because of the heat. However, the United States Tennis Association's communications director confirmed that the idea was being explored for Tuesday's late matches.