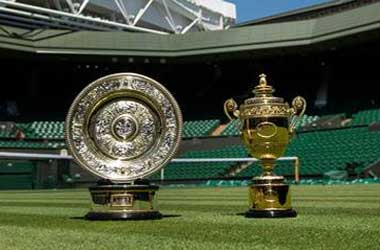 Wimbledon is the biggest tennis tournament in the world and this year it feels no different. The men's bracket is relatively healthy and as star-studded as ever and the women's bracket is incredibly wide open.
Tennis at Wimbledon is so interesting because of the emphasis it has on the service. The grass courts at Wimbledon speed up the game, contrary to the previous major event, the French Open, which is played on clay.
My favourite part about this surface change is that it forces players to play a completely different game and attempt to refine their skills in a different part of the game when gearing up for certain events.
That is why you see Rafa Nadal look unstoppable at the French Open and then see him listed at +400 to win Wimbledon.
The weather last year at Wimbledon caused a lot of delays and this can cause a drastic shift in momentum. This year, the weather looks to be almost ideal for the next two weeks. This can obviously change a lot, but right now the weather looks nice, which I think benefits the better players.
Best Online Sports Betting Sites To Bet On
Wimbledon
Mens Prediction
Favourite: Novak Djokovic (+125)
If I am betting the top, I am betting Djokovic (+125). This surface and setting has really helped Djokovic recently and I don't think that the numbers are good enough on anyone else besides Federer.
Nadal has inflated odds (+400) because of his recent performances, which were not on anything close to the surface that he will be playing on here. Can he win? Yes, but the number should not be this high.
Sleeper Pick: Félix Auger-Aliassime (+2500)
He is a really talented 18 year old who has performed very well on grass early in his career. I think that if he can string some wins together, he can get the confidence to knock off a giant or two. At the end of the day, betting on someone +2500 in a bracket will often allow you to hedge out later on.
Longshot: John Isner (+6600)
My favourite longshot in the tournament is John Isner at +6600. Isner's best career performances have almost all come on the grass or a fast, hard surface because of his serve and it really can carry him far. Isner can win every single service game against any player in the world if he is on top of his game, which is incredibly valuable at his price.
Other Selected Odds
Roger Federer (+550)
Alexander Zverev (+1100)
Marin Cilic (+2000)
Dominic Thiem (+2500)
Stefanos Tsitsipas (+2500)
Kei Nishikori (+2800)
Nick Kyrgios (+2800)
Womens Prediction
I really like three players on the women's side and they are all at different prices.
Favourite: Serena Williams (+450)
Serena Williams is the favourite and I do really like her odds here. Serena hasn't been as dominant as she once was, but she still has this dominant upside that no one else here presents. I think just taking +450 on the most dominant player is a nice strategy.
Sleeper Pick: Angelique Kerber (+1000)
Kerber is another player that has had a lot of success on grass in recent years, but she does it in an unconventional way. I think the Kerber has the best return game in the sport and this really benefits her at Wimbledon. I like her a lot at +1000.
Longshot: Julia Görges (+5000)
Görges is probably the best service player on the women's side and her price is just too long for the upside. Elite service players get a bump here and her bump is NOT enough at all.
Other Selected Odds
Naomi Osaka (+650)
Ashleigh Barty (+800)
Simona Halep (+800)
Petra Kvitova (+1000)
Sloane Stephens (+1000)
Garbine Muguruza (+1600)
Johanna Konta (+1600)
Karolina Pliskova (+1600)
Madison Keys (+1600)
Bianca Andreescu (+1800)