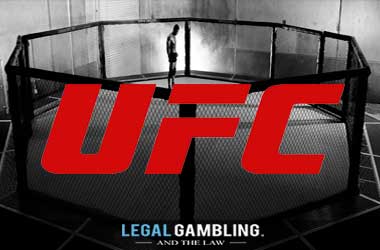 The Mixed Martial Arts world will head to Las Vegas, where the UFC Apex Facility will host UFC 258. UFC 258 aims to please with the matchups coming your way. Bettors and UFC fans can witness Kamaru Usman and Gilbert Burns for the main event title fight, while Maycee Barber and Alexa Grasso make up the co-main event.
One of the fights that many were looking forward to was Rodolfo Vierira against Anthony Hernandez. They had to postpone this match due to a positive COVID-19 test.
This is also the make up date for the fight between Kevin Gastelum and Ian Heinisch. That was scheduled for the end of January, with yet another COVID-19 related issue coming up.
Despite all the changes to the card; we really look forward to these fights and feel they are going to be outstanding UFC matches to bet on. Let's take a look at the big fights for you to prepare for to event:
Best Sports Sites To Bet On UFC 258
AXIOM FILMS
Main Event Breakdown
* Odds have been provided by Bovada and are accurate of February 08, 2021
Kamaru Usman (17-1-0)
Odds to win: -280
Usman is the welterweight champion who continues to defend his title for a third time. His record has been impressive with a 16 fight professional winning streak and 12 of those for when he crossed over to the UFC.
"The Nigerian Nightmare" took the belt from Tyron Woodley in 2019. Then, he took care of Colby Covington and Jorge Masvidal in those two bouts where he defended the belt.
It is also interesting to note that Usman has a very strong takedown defense, which you would have to go back to his professional loss outside the UFC in 2013 to see if he ever was taken down then. He has turned into a great striker after his background began in wrestling.
Gilbert Burns (19-3-0)
Odds to win: +220
Gilbert Burns is the second best welterweight fighter and has his sights set to become the next champion. His progress shows a six fight winning streak with a recent victory against Tyron Woodley.
"Durinho" and Usman used to train together and even had a similar background with a grappling first mentality. He too has improved his striking since his professional career in the UFC.
Burns looks tremendously better after returning to welterweight at 170 pounds. He did not look the same when he was in the lightweight division at 155 pounds.
Prediction: Usman wins
Usman has a five inch reach advantage and can land some technical strikes from a distance. He also has a great ability to switch stances to keep Burns moving back and to somewhat take away the threat of another grappler. This one could potentially go the distance too.
Preview Of Other Main Event
Maycee Barber (8-1-0): +150
Alexa Grasso (12-3-0): -145
Barber steps back into the octagon after a year off, still ranked as the 10th best fighter in the women's flyweight division. She lost by decision to Roxanne Modafferi back in January of 2020 but also suffered a knee injury that required surgery.
"The Future" was on her way to be the youngest to ever be a UFC champion, passing Jon Jones, before ultimately losing and being injured. She has only had two of her fights make it to decision, with one loss and one win.
Barber is an aggressive fighter that fans typically love to watch. At times she can bully her opponents to make the moves she needs in the octagon.
Grasso has a great opportunity here with being the 15th best fighter in the women's flyweight division. She is looking for consecutive victories in the UFC, as she typically wins a fight and then loses the next one.
She lands a handful of significant strikes each minute since she tends to bounce around and land multiple punches at a time versus just one. Even though she tends to outstrike her opponents, she usually gives up ground when she cannot defend against takedowns.
Prediction: Barber wins
This fight has strong potential to become a long distance fight. If so, Maycee Barber appears very likely to come away with a victory in the form of knockout or decision and get back to a winning streak.