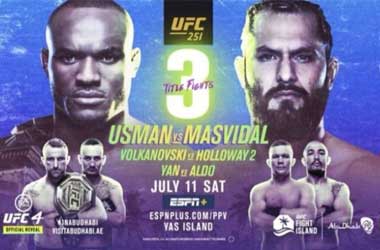 The UFC needs a lot of praise for being the only sporting organization that has continued to put up fights in the midst of the COVID-19 pandemic.
President Dana White's leadership has to be commended as he did everything he could to not only stage fights in the United States but to set up Fight Island in Abu Dhabi so that international fighters could continue to fight.
The UFC scheduled three fight cards for Abu Dhabi between 11 July and 18 July and the biggest of those cards was the UFC 251 pay-per-view card that was stacked with three championship fights.
MMA fans were looking forward to a phenomenal card as the UFC always delivers but on this occasion the first card in Abu Dhabi flopped because the three title fights were a let-down.
Morning Kombat
Petr Yan vs. Jose Aldo
Aldo is a legend of the sport and was looking to get his hands on the bantamweight championship. He did well for the first couple of rounds but then Yan who is a hungry young lion and former training partner of Aldo found his groove and started to take Aldo apart. Fans will not be disappointed with this fight as it was a great fight but they were terribly disappointed with the referee Leon Edwards who should have stopped the fight a lot earlier.
Aldo was getting mercilessly pounded but did not want to quit. It's the referee's job to step in and save the fighter but in this case the referee failed and as a result Aldo took more damage than he should have.
Alexander Volkanovski vs. Max Holloway
This fight was probably the worst one of the night as Holloway clearly won the fight but the judges gave it to Volkanovski. It was a shocker and White admitted during a press conference that both the referring and the judging needs to be tightened up on fight island. Whether the UFC can get that done within such a short period of time remains to be seen.
UFC fighters also let Volkanovski known on Twitter that he should not have won that fight with former UFC champ Henry Cejudo calling him a thief for stealing the win and Nate Diaz tweeting that Max won the fight.
You over grown midget! You stole that one. I'll make sure to stop you you thief. #ufc251

— Henry Cejudo (@HenryCejudo) July 12, 2020
Shoutout to Rose and Max they robbed max tho but 💯 to the real fighters out there 💯👊🏼

— Nathan Diaz (@NateDiaz209) July 12, 2020
Kamaru Usman vs. Jorge Masvidal
Masvidal took the fight on 6 days' notice and saved the card, so due respect. However, it was anything but a competitive fight as Masvidal was clearly out of gas for most of the fight and could only defend himself throughout the fight which Usman dominated and won.
Masvidal admitted he let down his fans and should have done better. Overall, it was a disappointing night for MMA fans.