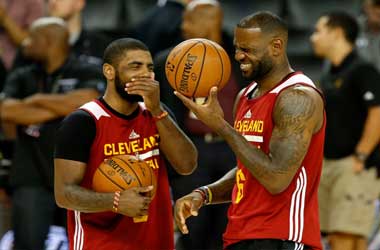 The NBA free agency season will start on July 1 and while there are a number of exciting players listed to be traded, none are more exciting that LeBron James – the best player in the NBA.
James has an option to renew his contract with the Cleveland Cavaliers but will most likely move on and there are a number of teams eager to sign the NBA All Star.
LeBron James and Kyrie Irving had a great partnership with the Cavs but that relationship turned sour as Irving felt that he would always be playing in James's shadow. Irving surprised everyone in 2017 when he decided to quit the Cavs and move over to the Boston Celtics.
The Celtics had a great 2017-2018 season and played the Cavs in the Eastern Conference Finals playoffs which the Cavs ended up winning in Game 7. The Celtics had to do without the services of Irving who missed out due to knee surgery.
There are reports that the Celtics might go after James and that could make things a little awkward for Irving given the fact that he left the Cavs to not be partnering with James. Should the Celtics pursue James and end up signing him, it would be interesting to see how the team dynamic will play out. Irving had admitted that he has not addressed the issue with the Celtics management.
In a statement, Irving said
In this business, I've experienced it all, and I've seen a lot. So we'll see what management decides
Fruit Hoops
James Has Multiple Options To Choose From
When you are the best player in the NBA, you have multiple options to choose from as just about every NBA franchise wants to sign James. Miami Heat, the LA Lakers, Houston Rockets and Philadelphia 76ers are just few of the franchises that have expressed interest in signing James.
James hasn't confirmed that he is leaving the Cavs but has made it clear that if he does sign with a new NBA franchise, it will not be over how much money he gets but rather how easy it would be for his family to move and settle in. The other fact that James will seriously consider is the strength of the new NBA franchise as he has had to carry the Cavs on his shoulders throughout 2017-2018 and knows that he needs another All Star like Irving to help him with his quest to win another NBA Championship.