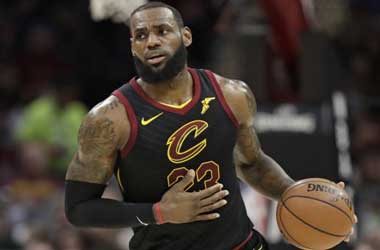 There has been much speculation over the future of Cleveland Cavaliers star player LeBron James. The Cavaliers have reached the NBA finals for three consecutive years and won one of those finals thanks to the spectacular efforts of James.
This season, the Cavaliers broke up their core team and as a result have had a poor season losing 13 out of 19 games.
The Cavaliers want LeBron James to stay with them and will most likely pay the four time MVP close to $35 million for the next season. James is yet to confirm what his plans are once the season finishes but there are rumours that he is not very interested in remaining in Cleveland and could be interested in making a move to the L.A. Lakers.
ESPN
NBA All-Star Weekend Gives LeBron Some Food For Thought?
James travelled to Los Angeles last week to be a part of the NBA All-Star weekend which took place at the Staples Center. The highlight of the weekend was the NBA All Star game between Team James and Team Stephen. The stadium was packed to witness the NBA All Star game which went down to the wire and in the end it was Team James who ended up winning 148-145.
James stole the show at the All Star Game scoring 29 points, 8 assists and 10 rebounds to take his team to victory. He was awarded the MVP All Star Player award for his performance and this is the third time that James has received this award. During his post-match interview, James made some interesting comments which has caused fans of the L.A Lakes to get their hopes up regarding a potential move by the NBA All Star.
In a statement, James said
I think L.A. is the perfect place to host All-Star weekend. It's built for the stars. It's built for entertainment. It's built for cameras and bright lights, and it's a great place for it. I hope everybody had a great weekend. I know I did. I know my family did
The Los Angeles Lakers have not won an NBA championship for the last 8 years. The Lakes once boasted some of the best players in the game with Shaquille O'Neal and Kobe Bryant but now lack the star power. They would dearly like to sign LeBron James and build a team around him but to do that they will have to make him an offer he cannot refuse.