The NBA All-Star weekend events have concluded and it appears that a changing of the guard has begun as each contest has a new winner from last year.
We take a look at some of the popular contests held over the weekend and who stole the show.
NBA All-Star Taco Bell Skills Challenge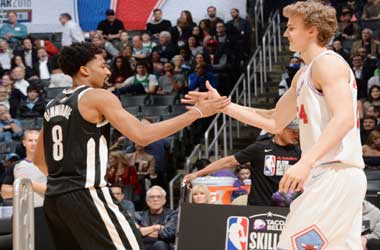 In the final of the Taco Bell Skills Challenge Brooklyn Nets point guard Spencer Dinwiddle defeated Chicago Bull forward Lauri Markkanen in the final round.
The skills challenge is basically an obstacle course which both players have to run, dribble and shoot with the fastest player to finish moves on to the next round.
Dinwiddle has been having a breakthrough year so far this season with career highs in points per game as well as rebounds per game for a Nets team that is currently rebuilding mode.

NBA All-Star Three-Point Three Point Contest
The Three Point Contest is contest which players are timed to shoot from five different positions on the court with each spot have a rack holding five basketballs. On each rack there are four orange balls worth one point each and one rainbow colored ball worth two points. After all players are finished for the round the three competitors who have the highest score advance.
For the final of the Three Point Contest, fans saw Devin Booker get his revenge on Klay Thompson as he scored 28 points to set a new record and win the Three Point Contest. Booker, a third year guard who plays for the Phoenix Suns joined the contest in 2016 as a rookie and came in third after his second round loss to Thompson.
NBA All-Star Slam Dunk Contest
In what is perhaps the most anticipated contests during the NBA All-Star weekend Utah Jazz guard Donovan Mitchell defeated newly acquired Cleveland Cavaliers forward Larry Nance Jr. in an epic showdown. Mitchell was happy to win the Slam Dunk contest and paid tribute to his favorite player Vince Carter
NBA Rising Stars Challenge: Team USA vs. Team World
This is a different game from the actual All-Star game as this is a game for players who are in their first and second years of playing. The 2018 Rising Stars Challenge was won by Team World who defeated Team USA 155-122.
Team World just had so much more firepower on their side in comparison to Team USA. Team World had stars such as Ben Simmons, Dario Saric, Joel Embid and Jamal Murray and they outclassed their competition.
NBA All Star Game: The highlight of the All Star Weekend was the match between Team LeBron and Team Stephen. LeBron James led his team to victory with a 148-145 scoreline and James was also named MVP after scoring 29 points.
Video provided by Ximo Pierto and Highlight Heaven