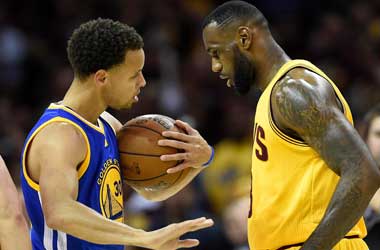 The NBA All-Star Game is set to take place on Feb 18 at the Staples Center and long-time rivals LeBron James from the Cleveland Cavaliers and Stephen Curry from the Golden State Warriors will captain their respective teams.
The two captains picked 12 members each for their respective teams on Jan 25 but did not disclose who their first pick was.
Team LeBron will be captained by LeBron James and the four top players include former teammate Kyrie Irving from Boston, DeMarcus Cousins and Anthony Davis from New Orleans and Kevin Durant from Oklahoma City.
The reserve players for Team LeBron include John Wall and Bradley Beal from Washington, Kristaps Porzingis from New York, Kevin Love from the Cavailers, LaMarcus Aldridge from San Antonio, Victor Oladipo from Indiana and Russell Westbrook from Oklahoma City.
NBA on TNT
When Kyrie Irving left the Cavaliers, there were reports floating around that Irving decided to move on due to a fall-out with James. However, it appears that there is no bad blood between the two as James had no problem in choosing his former teammate.
In a statement, James said
Having Kyrie in the backcourt will be special, along with Kevin Love. We'll have another weekend where we can bring back some of the memories we had when we were all together. Kyrie is one of the best point guards in our league. It was an easy choice for me
Team Stephen will be captained by Stephen Curry and the top four players include James Harden from the Rockets, Giannis Antetokounmpo from Milwaukee, DeMar DeRozan from Toronto and Joel Embiid from Philadelphia.
The reserve players for Team Stephen include Draymond Green and Klay Thompson from the Golden State Warriors, Karl-Anthony Towns from Minnesota, Jimmy Butler from Milwaukee, Damian Lillard from Portland, Al Horford from Boston and Kyle Lowry from Toronto.
James and Curry said they had a lot of fun picking their All Star team and the two rivals wished that they would once again captain the NBA All-Stars in 2019. James wants the next All-Star draft to be televised as the two of them shared a lot of laughs and James believes the public would have enjoyed the process as well.
Some NBA fans believe that Team James has an edge over Team Curry but on paper both teams appear to be pretty evenly matched and it will all come down to how the players perform on the day.
Check out our indepth guide to the NBA with the best sportsbooks on offer to get ready for the upcoming game.