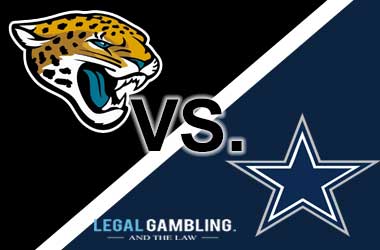 A cross conference matchup headlines the late game slate Sunday and features 2 of the leagues best defenses. The Cowboys and Jags have split their all time series 3-3, and the Cowboys won their last matchup in 2014.
The Jaguars are coming off a 30-14 loss to undefeated Kansas City. They lost 9-6 to Tennessee in week 3, and beat the Jets 31-12 in week 4. The Cowboys lost Sunday night, 19-16, to the Houston Texans. In week 3, they lost 24-13 to the Seattle Seahawks, and beat the Lions 26-24 in week 4.
The Jaguars are currently 3 point favourites at Bovada, and the O/U total is set at 40.5.
Jacksonville Jaguars
The Jaguars got dominated in a game that was thoroughly hyped in the week leading up against the Chiefs. Most of that blame lands on the shoulders of Blake Bortles. Bortles was awful throwing 4 picks, and missing multiple receivers horribly. The Jags feature a diverse skill set at their skill positions, getting 50+ yards from 6 different receivers last Sunday.
Dede Westbrook, Keelan Cole and Donte Moncrief form a quick and savvy group that has accounted for almost 60% of the Jaguars total receiving production. T.J. Yeldon has performed well in the absence of Leonard Fournette. Yeldon is averaging 4.4 yards per carry, and has almost 200 yards receiving and 4 total touchdowns. The Jacksonville offensive line has some really weak links. The right side of the line (Jermey Parnell, A.J. Cann) has allowed 26 pressures and 4 sacks, while Josh Walker, who stepped in for injured Josh Wells at left tackle last Sunday, allowed 9 pressures on 49 pass blocking snaps.
The defense continues to be a dominant unit, although they were pushed up and down the field by KC. Yannick Ngakoue leads the team with 21 pressures, and Malik Jackson has provided a formidable inside pass rush with 5 QB hits. Jalen Ramsey and A.J.
Bouye are still one of the leagues best corner duos, and combined are allowing on average 10.8 yards per catch, and a total of just 88 yards after the catch.
Injuries and Inactive Watch
CB D.J. Hayden (toe) – out, C Brandon Linder (knee) – questionable, RB Leonard Fournette (hamstring) – out, TE Austin Sefarian-Jenkins (abdomen) – placed on IR
Dallas Cowboys
The Cowboys offense continues to be an issue, and Jason Garrett has taken a lot of flak for punting on 4th-and-1 in Houston territory in overtime. Dak Prescott is turning into a conservative QB, afraid to take risks down the field, going 18/29 for 208 yards, 1 TD, and 2 INTs on Sunday night. Dallas has a major lack of starting talent at the receiver position, with Cole Beasley leading all pass catchers with 17 catches for 193 yards on the season.
Zeke Elliot continues to be the focal point of the Cowboys offense, and is putting together an excellent season. Elliot has 93 carries for 480 yards and 2 TDs, and has added in the receiving game with 22 catches for 155 yards and a TD. The offensive line continues to be solid, even minus Travis Fredrick and with Tyron Smith not playing his best.
The Cowboys defense continues to be one of the more underrated units in the league. The defensive front recorded 9 QB hits against Houston, and 27 total pressures. Daniel Ross impressed in limited action, recording 5 pressures on just 11 pass rushing snaps. Byron Jones had his first real lapse of the season, giving up 74 yards against one of the best receivers in the league in Deandre Hopkins.
Injuries and Inactive Watch
WR Terrance Williams (foot) – placed on IR, OT Tyron Smith (ankle) – questionable, EDGE Taco Charlton (thumb) – questionable, LB Sean Lee (hamstring) – questionable
Predictions
This game could be a slog. Any game featuring a team that has Scott Linehan calling plays on one side and Blake Bortles on the other side has the potential to be ugly. Bortles could struggle against a vicious Dallas front that should be in his face consistently, and could force him into a turnover or 2. There is really nothing offensively that scares you about this Jacksonville team, and Dallas should be able to shut them down in all facets.
Dallas offense will face a similar challenge against Jacksonvilles D. Dak is not going to be able to throw the ball down the field against an aggressive pass rush and secondary. The Jags defense has not tackled extremely well, and Dallas can exploit them with short passes, screens, and getting Zeke the ball in any and all ways. When it comes down to it, I don't think either team has the firepower to pull away in this one, and we might be looking at a 20-18 type of game. I'm going to take the Cowboys to cover at home, riding Zeke Elliott to a punch-counterpunch type cover.
Final Pick: Dallas (+3)