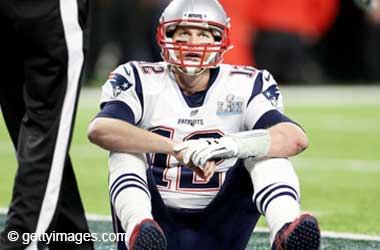 In the same day that New England Patriots legend Tom Brady was spotted chatting amiably with Las Vegas Raiders owner Mark Davis at UFC 246, the 42-year old quarterback also said in an interview with Westwood One radio that he would keep an open mind about the free agency process. According to Brady, staying with the Patriots is not a foregone conclusion as was the case in previous years.
It may now be possible to pry away one of the game's most successful players in history from the only team he has played for professionally. In March 2020, Brady will enter free agency for the first time in his 20-year career. The 42 year old has made no indication about any potential retirement plans.
Brady's possible transfer has been the most talked about story after the NFL playoff wild-card round, where Brady's Patriots bombed out spectacularly against the sixth-seeded Titans.
After reports came out that Brady will meet with other teams, rumours began to circulate a lot more after his photo with Mark Davis emerged. The Raiders are set to compete in their new home base of Las Vegas and some observers believe that the team may have reservations about their current quarterback Derek Carr and be looking to woo Brady.
Rumours about Brady's impending flight from the Patriots have been stoked further by the listing of his 10,000 square-foot home in Brookline, Mass., especially as Brady has moved his family into a $9 million mansion in Greenwich, Conn.
Brady has earned a little over $235 million with the Patriots. Owner Robert Kraft has indicated he has no qualms paying the future Hall of Famer more if he chooses to continue his playing career with the Patriots. According to Kraft, he respects Brady's freedom to decide what is best for himself.
ESPN
Tom Brady – A Big Draw
Brady's performances last season were not as high as his fans would have expected. It is still a matter of debate among league insiders and observers whether Brady's flagging standard of play was due to his own deterioration as a quarterback, or whether a lacklustre supporting cast was the cause. Despite such concerns, there is a strong market for Brady's services in the NFL, particularly among contender teams looking for veteran experience and leadership.
If Brady leaves the Patriots in free agency, New England will still have rookie backup Jarrett Stidham in the team!