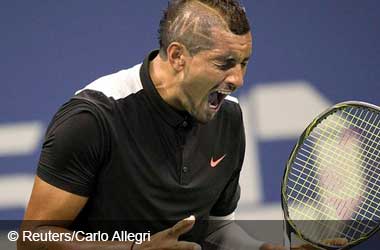 John McEnroe is considered one of the greatest tennis players in the world and he continues to give back to the game through his commentary stints, exhibition matches and being the captain of Team World during the first two editions of the Laver Cup.
McEnroe was by far the most volatile and emotional player on the court during his generation.
Tennis lovers will be very familiar with him throwing tantrums, breaking racquets and abusing the chair umpire on many occasions.
Even with all those temper tantrums, McEnroe went on to win 7 Grand Slams and enter the Hall of Fame.
The American can see a lot of himself in Australian Nick Kyrgios who has unfortunately made a name for himself on the tennis circuit more for his outrageous behaviour than his accomplishments on the court. During the last couple of years, Kyrgios outbursts have become more frequent which has concerned McEnroe who even offered to help the Australian. That offer to help was turned down by Kyrgios in a rather rude manner but since then the two have been in contact as McEnroe captained Kyrgios when he played for Team World.
Kyrgios Must Address Mental Health Issues
Kyrgios had a breakdown at the U.S Open recently and that prompted the chair umpire to reach out to him and tell him 'I like you and want to help you'. That little piece of advice got the chair umpire in trouble and caused him to get suspended for the next two ATP events.
McEnroe believes the chair umpire should have been promoted and not punished for wanting to help Kyrgios. He said that if Kyrgios does not fix his mental health quickly, it could very well result in the end of his professional tennis career.
ABC News
In a statement, McEnroe said
The difference between Nick and I at the moment is I tried all the time. He doesn't, for whatever reason. I'm not Sigmund Freud. I wish I was because I like Nick and he'd be good for the sport. Obviously it would be good for him. That goes without saying. I think Nick's a really nice kid
The good news is that Nick Kyrgios recently announced that he has decided to address his mental health by going to a professional. We will have to wait till next year to see if the private sessions have any impact on Kyrgios and his game.