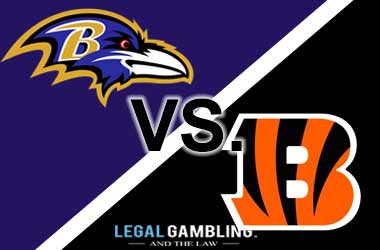 After years of Thursday night snoozers, the NFL is making a concerted effort to make the Thursday primetime games more entertaining. Week 1 is always hit or miss, no matter who is playing, but the Falcons and Eagles were at least a good matchup on paper.
This Thursday we have an AFC North matchup that will go a long way towards figuring out the muddled mess that is the AFC. Both the Bengals and Ravens show promise but have disappointed in more situations than they've been successful lately.
If you believe the Steelers are the guaranteed number 1 in the AFC North then this matchup has major implications towards the division and the AFC Playoff picture. Both teams are coming off wins in week 1, getting it done in different fashions.
The Ravens are -1.5 favorites on the road at MyBookie, with an Over/Under total of 45.
The Rich Eisen Show
Baltimore Ravens
The Ravens really took it to the hapless Bills week 1, dominating Nathan Peterman, who has no business starting in the NFL by a score of 47-3. Joe Flacco looked revitalized, as he may be looking over his shoulder a bit at rookie QB Lamar Jackson.
Flacco picked apart the Bills secondary to the tune of 236 yards and 3 touchdowns. The past few years, Flacco has looked content to check the ball down and has received criticism for not being as competitive as he was early in his career.
In week 1, we saw the old Joe Flacco. Joe Cool looked calm and collected, using play action to his advantage, and throwing with anticipation and pace. All of Flacco's 3 touchdowns required pristine ball placement, something that has been a question for him over the years. The defence obviously did their job, but was definitely aided by Peterman's performance and playing with a huge early lead. Even without standout cornerback Jimmy Smith, the Ravens secondary feasted with two interceptions and a few pass breakups.
The defensive front got constant pressure on the Bills hopeless offensive line, sacking Bills QB's 6 times, including 2 from slot corner Tavon Young. In the run game, the Bills offensive line struggled all game to pull block due to the constant upfield movement from the Ravens defensive front.
Injuries and Inactive Watch
RB Kenneth Dixon (knee)- placed on IR, TE Hayden Hurst (foot) – DNP all week, not expected to play and CB Jimmy Smith (suspension) – will miss first 4 weeks
Cincinnati Bengals
In what was one of the best games of week 1, the Bengals led 27-23 on defense when the Colts took over with a little under 4 minutes to play. Backed up against their own endzone, Jack Doyle fumbled on a hit from backup safety and key special teamer Clayton Fejedelem.
Fejedelem then proceeded to scoop the fumble and take it back 80 yards, sealing the Bengals win 34-23.
The Bengals defense was all over Luck, dropping him twice for sacks, and knocking him down on 5 other pressures. Edge rushers Carl Lawson and Carlos Dunlap impressed, consistently beating Indy's tackles off the ball and taking advantage with a variety of club and dip moves.
On offense, running back Joe Mixon was a one-man wrecking crew, displaying the tools that had many scouts drooling last draft season. With just a shade under 150 yards total offense on 22 touches, Mixon also found the endzone and had the Colts defense on their heels all afternoon.
The emergence of Joe Mixon has the potential to really open this offense up. No longer can teams disregard the Bengals backfield and constantly double team AJ Green. As long as Mixon continues his play and tight end Tyler Eifert can stay on the field, this could be an impressive offense this season.
Injuries and Inactive Watch
LB Preston Brown (ankle) – limited this week game time decision, WR Cody Core (back) – limited this week doubtful, CB Darqueze Denard (neck) – limited Monday expected to play
Matchups to Watch
Ravens QB Joe Flacco vs Bengals CB's
Ravens OT's vs Bengals EDGE's
Bengals WR AJ Green vs Ravens Marlon Humphrey
Bengals RBs vs Ravens LB CJ Mosley
Predictions
Division games are always hard fought, especially in the AFC North. The Bengals and Ravens have split their season matchups the last two seasons with two wins apiece.
Both teams are strong defensively and have found some success and an identity on offense in week 1. This game really comes down to quarterback play, and neither has inspired much confidence in the last few years.
If the Ravens offense wasn't just a fluke week 1, and Flacco comes out against Cincy with the same confidence and awareness as he had against the Bills, the matchup between him and the Bengals secondary will be fun to watch.
Andy Dalton has always been a very average quarterback, but he has the playmakers around him to take advantage of a Ravens secondary that is without Jimmy Smith. Joe Mixon and backup RB Gio Bernard could be the trump card.
Getting Mixon involved early and keeping the Ravens D off-balance will be huge for the Bengals at home. The Bengals offense has the potential to take off this season, but I don't think it happens against a strong Ravens Defense.
The Ravens have playmakers at all 3 levels, and matchup very well with the Bengals offense. I'm taking the Ravens to cover on the road here, knowing the defense will show up ready to rock, and hoping Joe Flacco continues to play with a chip on his shoulder.
Final Pick: Ravens (-1.5)